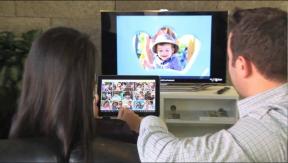 Los Angeles – StormAudio will enter the U.S. market with a CEDIA Expo launch of high-end surround processors, amplifiers and other electronics targeted to high-end residences, luxury hotels and yachts.
StormAudio is a new home-audio brand created by a French maker of cinema and music-studio electronics.
The products, made by Digital Media Solutions (DMS) Group, will be marketed in the U.S. by Los Angeles-based Procella Audio, which markets its own brand of high-performance speakers targeted to the same high-end customers as StormAudio products.
At the Expo, Procella will host the world's first demonstrations of StormAudio products, which are being introduced worldwide.
StormAudio is headed by president and chief engineer Yves Trelohan, who was founder and president of Screen Research. DMS Group, which opened in 2009, is headed by founder and president Herve Roux, who was previously director of sales and marketing for DTS's cinema group division.
The lineup of StormAudio products includes two surround processors, one of which is the 16-channel SSP16.3D with 11.1-channel DTS Neo:X decoding and post-processing technology. It will also support other future 3D surround formats, Procella said.
The processor's 16 channels are fully assignable for any function, so discrete channels can be used to drive multiple subwoofers or biamplify speakers where two processor channels are required for one source channel, Procella said.
The Home Edition of the SSP16.3D is priced at $13,000, but more expensive editions are available, including a rack-mount edition, luxury Design Edition, and the Exclusive Edition, which features Zebra side-panel striping and sculpted top-panel air vents.
The second processor is the $9,100 7.4-channel SSP7.
Both processors feature Sphere Audio binaural headphone technology, which delivers a surround experience over headphones.
The lineup also includes an integrated amp, a CD player, and 12 amplifiers. The amps consist of four Class AB amplifiers and eight Class D models in one-, two-, three-, four-, seven- and eight-channel configurations with outputs ranging from 90 watts to 1,200 watts per channel, the latter output appearing in a two-channel amp and a one-channel amp. Amp prices range from $3,900 to $8,060 for the Home Editions. They're also available in the three other editions.
The amps feature exclusive StormFocus and StormAdjust technology. The former adapts the current and voltage of the amps to produce an optimum impedance and phase match between the amps and any speaker. The results included improved staging, resolution and bass clarity, particularly with long cable runs or when driving speakers with complex loads, Procella said. StormAdjust optimizes the amps to deliver high-quality audio over very long or low-quality cables.
The amps and processors also feature StormRemote technology for remote monitoring. For amplifier monitoring, the amps must be connected to a StormAudio processor that's connected to a home network.
The CD player and integrated amp are not available in rack-mount versions.
The Class D amps ship in September. The Class AB amps and processors ship in December.