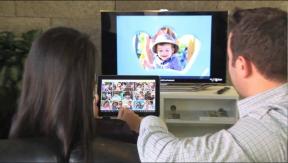 New York – RadioShack's recently installed CEO Joseph Magnacca is consolidating SKUs, re-assorting the mix and re-merchandising stores in pursuit of higher margins and profits.
Five months into his tenure, his vision for RadioShack — and the lessons he learned leading Walgreens' Duane Reade pharmacy chain — have taken form in a showcase pilot store here on Manhattan's Upper West Side.
During an exclusive industry media walk-through, Magnacca pointed to a litany of initiatives, including a renewed emphasis on showrooming-resistant private-label and price-protected protects; transitioning from a hodge-podge of private-label brands to a core RadioShack badge; and culling duplicative SKUs from the store assortment and moving them online.
To help drive traffic and attract a new, younger customer base, the store itself has been transformed into a CE, mobile and do-it-yourself playground with live product displays, interactive touchscreen panels, new video signage, and a wireless speaker wall that allows customers to A-B demo models with music from their own Bluetooth devices or from a display tablet's exhaustive playlist.
A full report and pictorial on Magnacca's high-margin roadmap for RadioShack will appear in the July 22 issue of TWICE.
Latest posts by Alan Wolf
(see all)