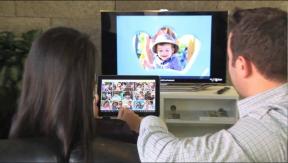 Fort Worth, Texas — RadioShack has released its first TV spot under its new management team.
The commercial, for Beats by Dr. Dre's Pill wireless speaker, is a play on Robin Thicke's "Blurred Lines" music video and is provocative by RadioShack standards.
Recently installed CEO Joseph Magnacca acknowledged on an earnings call last week that the spot was designed to draw a new, younger audience to the 92-year-old electronics chain.
"Partnering with a strong brand like Beats marks one of the ways RadioShack is broadening our customer appeal," noted Jennifer Warren, RadioShack's recently named senior VP and chief marketing officer.
The ad, which will begin airing today, will variously appear on MTV, VH1, Spike and Comedy Central, and will also run during the NBA Finals on ESPN and ABC.
The 30-second spot also ties into a special in-store offer that will allow RadioShack customers and music fans to download an exclusive remix of "Blurred Lines" with the purchase of any qualifying mobile phone, tablet, MP3 player or Beats by Dr. Dre product.
Latest posts by Alan Wolf
(see all)