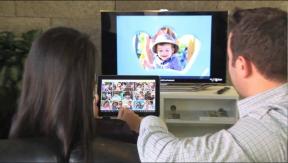 Englewood Cliffs, N.J. – LG Electronics USA said Wednesday it is using its role as an NCAA corporate partner to embark on an 11-school fan-experience tour.
Scheduled stops on the LG tour include: campuses where key NCAA football match ups are scheduled, in order to give fans the chance to witness demonstrations of LG's Smart TVs and Smartphones while having the opportunity to win season tickets for each home team's 2014 football season.
"College football fans show the same passion for their schools and teams that we at LG have for innovation and delivering the best experience," said James Fishler, LGE senior VP. "With LG, it's all possible. So we wanted to create an experience that allows fans to 'Do Game Day Right' and have fun with our products while also rewarding their dedication to their teams."
The tour kicks off on Sept. 21 at the Michigan St. vs. Notre Dame game in South Bend, Ind.
To help capture the experience, LG is encouraging attendees to spread the word via social networks using the hashtag "#LGGameDay."
Scheduled highlights of the fan experience include:
• A trivia contest on the LG smart TVs and smartphones so fans can show off their football smarts and test how well they know their team.
• An enter-to-win sweepstakes for season tickets to the home team's 2014 football season, using LG's Magic Remote to sign up.
• The LG G2 smartphone "Selfie Station," offering fans the chance to capture take their own photos with the LG G2's 13-megapixel-camera and publish them on their social networks.
• A giant LG G2 touchscreen demo station.
• LG's Smart TV running Pandora pre-game music.
• Charging station for fans whose phone needs a boost for the game.
Stops on the LG tour include the following:
Sept. 21 – Michigan St. at Notre Dame, South Bend, Ind.
Sept. 28 – Wisconsin at Ohio State,
Columbus, Ohio
Oct. 5 – Minnesota at Michigan, Ann Arbor, Mich.
Oct. 12 – Colorado at Arizona State, Phoenix
Oct. 26 – Utah at USC, Los Angeles
Nov. 2 – Arizona at Cal, Berkeley, Calif.
Nov. 9 – Colorado at Washington, Seattle, Wash
Nov. 16 – Oklahoma State at Texas, Austin, Tex.
Nov . 23 – Kentucky at Georgia, Athens, Ga.
Nov. 30 – Florida State at FloridaGainesville, Fla.
Nov. 30 – Clemson at South Carolina, Columbia, S.C.
Latest posts by Greg Tarr
(see all)