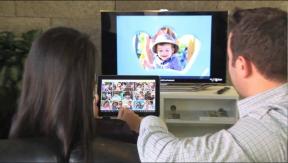 Englewood, Cliff, – A nationwide survey of holiday shoppers conducted for LG Electronics discovered that 52 percent would rather receive an 84-inch Ultra HD Smart TV, than a watch, or jewelry worth $16,000 as a Christmas gift this year.
And before you think the survey must have been taken at a well-heeled men's club, the tally dropped only marginally to 42 percent among the women.
In addition, 44 percent of consumers surveyed said they would rather receive a 55-inch smart TV valued at $2,300 than a trip to Europe.
LG released the survey in the days prior to Black Friday and Cyber Monday officially kicking off the holiday gift season.
The big takeaways from the finding were that consumers are still willing to spend money, and big ticket items are a factor on some people's lists.
More importantly for LG, the survey revealed 58 percent of people are considering giving a TV as a gift.
The survey of more than 1,000 Americans conducted by Ebiquity also revealed that 38 percent of 18-29 year olds will give 12 or more gifts this year, consumers aged 30 and older plan to give five to eight gifts this year, and 39 percent of consumers said they are willing to spend $1,000 or more on a single gift.
In addition, 50 percent of consumers said they are willing to share the price of a gift once it reaches $545.
Latest posts by Greg Tarr
(see all)