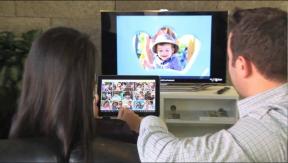 Arlington, Va. – The Consumer Electronics Association's (CEA) CES Unveiled New York will be held on Tuesday, Nov. 12, and will include an Ultra HD conference produced with TWICE.
CES Unveiled will be held at the Metropolitan Pavilion on 125 West 18th Street in New York. Click here to register.
CES Unveiled will feature holiday product debuts, CEA's latest holiday sales forecast and market research, and important news about the upcoming 2014 International CES.
The 2014 CES Best of Innovations Design and Engineering Awards honorees also will be announced.
New to this year's event is the Ultra HD Conference at CES Unveiled New York, produced in cooperation with TWICE, which is a series of panels and speakers addressing the latest and clearest breakthrough in home television entertainment.
Sessions will bring together TV manufacturers, retailers, analysts, content producers and content distributors to assess the rollout and migration path of a technology that delivers four times the resolution of current Full HD TVs. The event, which is open to press and guests seeking the latest intelligence on this new high-tech opportunity, will discuss and highlight Ultra HDTV's value to consumers.
Here is the CES Unveiled New York schedule:
9:30 a.m. to 2:45 p.m.
Ultra HD Conference at CES Unveiled New York, 2nd Floor
(Registration details to be announced soon.)
3:15 p.m. to 3:45 p.m.
2013 Holiday Sales and End-of-Year Trend Analysis, 2nd Floor
3:45 p.m. to 4:30 p.m.
2014 International CES New York Press Preview including Innovations Award Honorees announcement, 2nd Floor
4:30 p.m. to 7:30 p.m.
CES Unveiled New York showcase and networking reception, 1st Floor