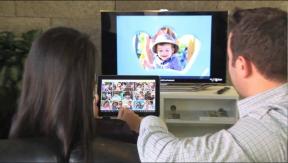 Los Angeles — Cerwin Vega Mobile has begun shipping its smallest car audio amplifiers to date.
The three Class D amps in the Stealth Bomber series are priced from an everyday $239 to $359. Sizes range from 6.61 inches by 4.02 inches by 1.4 inches for the two-channel model, 6.99 by 4.02 by 1.4 inches for the four-channel model, and 8.7 by 4.02 by 1.4 inches for the mono model.
The two full-range amps are also the brand's first with auxiliary direct high-level matching input to connect any portable MP3 player, smartphone or tablet for music playback.
The amps are the two-channel B2 rated at 2×250 watts RMS into 2 ohms, the four-channel B4 rated at 4×150 watts RMS into 2 ohms, and the mono B1 rated at 500 watts into 2 ohms. They are encased in an industrial-grade aluminum heatsink.
The Cerwin Vega Mobile, DIamond Audio, and Cache car-electronics brands are owned by CV & DA Holdings.