Attention shoppers: If the backdrop to NBC's new retail sitcom "Superstore" looks familiar, it should — the pilot was filmed in a Burbank, Calif., Kmart.
According to store manager Carrie Ricketts, the doors remained open during the 16-day shoot, with actual shoppers and sales associates appearing on camera, and actors from the series assisting customers.
Here's her behind-the-scenes take on the making of the discount-store spoof, courtesy of Sears Holdings:
Sears: How did Kmart prepare for the filming of the "Superstore" pilot?
Ricketts: I met with the NBC crew, producers, writers, directors and production designers numerous times before the taping of the pilot began. During those meetings, we walked through the store discussing different concepts, relocation of merchandise and the setting up of props and lighting. Not only were the crew in constant communication with me for weeks leading up to the initial start date, they also made sure I was aware of any new developments and asked my permission before doing anything substantial.
One of our biggest tasks was remodeling the entire store to transform it into the "Cloud 9" superstore as depicted in the script. This meant all of our red signage needed to be replaced with blue signage. Although this was a hefty task, we were able to work together to get it done. In the end, all the hard work paid off because our store looked amazing on camera.
Sears: The store remained open as the scenes were filmed. How did Kmart associates and members react to that?
Ricketts: Whether waiting for the cast to walk out of their hair and makeup trailers in our parking lot or watching scenes being filmed around the store, associates and members alike were very interested in the process of filming the pilot scenes. Many of our associates and customers made their first cameo appearances in the pilot show.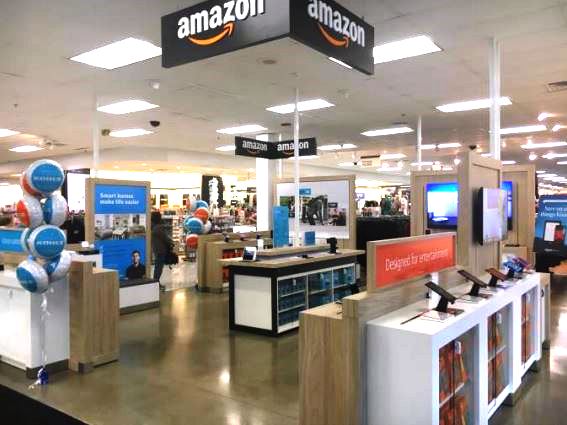 The Burbank, Calif., Kmart remained open for business during filming.
Sears: Is there anything unexpected that happened on set?
Ricketts: Besides being actors, the cast of "Superstore" almost became honorary Kmart associates after being asked a bunch of times where certain items in the store were located. They were good sports though, and always helped our members find something despite not working for Kmart.
Sears: Can you describe your experience in interacting with the cast and crew?
Ricketts: It was a pleasure working behind-the-scenes with the NBC team and having our store serve as the backdrop for this comedy's pilot episode. Not many people are fortunate enough to have an opportunity like this, so I am on "cloud 9" that our store was selected. Overall it was a very positive experience, one my team and I will remember forever.
Latest posts by Alan Wolf
(see all)