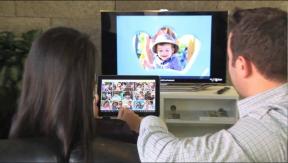 Tokyo – Sony reported net and operating profits and higher sales in its fiscal third quarter, while also announcing plans to make TV operations a separate subsidiary and to sell off its Vaio PC business.
The sale of Vaio and the revamp of its TV business will result in layoffs of about 5,000 by the end of fiscal year 2014, Sony said. The restructuring should result in 100 billion yen in savings starting in fiscal year 2015, the company noted.
Sales were $22.9 billion, up 23 percent in yen, and operating income was $860 million, up 94.6 percent in yen.
Sony reversed a 10.8 billion yen loss of a year ago into net income of 27 billion yen for the current quarter, or $257 million.
Sales were up due to favorable foreign exchange rates, the launch of PlayStation4 and "a significant increase in sales of smartphones," Sony said.
Operating income was up due to exchange rates as well as "significant improvement" in its home entertainment and sound segment. Sony said that its loss in TVs decreased and that PlayStation4 helped increase the segment's income.
For the quarter, home entertainment and sound segment sales were up 24.8 percent to $3.8 billion, and operating income was 6.4 billion yen, or $61 million, compared with a year-ago loss of 8 billion yen.
TV sales were 39.5 percent higher year on year to $2.42 billion, and the unit's operating loss decreased from 9.7 billion yen to 5 billion yen year on year, or $48 million.
In other CE-related businesses, Sony's imaging products and solutions segment sales were up 6 percent, to $1.88 billion, and it reversed an operating loss of a year ago. Its operating income was 12.1 billion yen, or $115 million, compared with the prior-year loss of 2.9 billion.
In the game segment, sales were up 64.6 percent in yen, or $4.2 billion, while operating income soared 292.1 percent in yen, or $172 million.
Mobile products and communications segment sales were up 44.8 percent in yen to $4.39 billion. The operating loss decreased from 21.3 billion yen to 12.6 billion yen, or $120 million.
In its outlook for the fiscal year ending March 31, Sony said segment sales and operating income for home entertainment and sound and its mobile products and communications segments will be below October forecasts. Its corporate net income and operating income will also be below October estimates, but sales should remain as predicted.
Latest posts by Steve Smith
(see all)