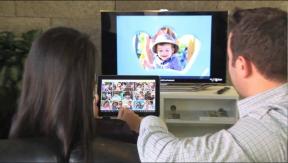 Ridgefield Park, N.J. — Samsung Electronics has introduced a four-door refrigerator that dispenses sparkling water, an industry first for that configuration.
The 30.5-cubic-foot RF31FMESBSR features an automatic sparkling water system that's integrated into the refrigerator's ice and water dispenser.
The system uses a standard 60-liter CO2 cylinder that's made and marketed by SodaStream, a leading manufacturer and distributor of home beverage carbonation systems. The cylinder rests within a small, concealed area inside the left refrigerator door that's easily accessible for replacement, and users can select three levels of carbonation on the dispenser's control panel.
The new model also features high-efficiency LED lighting that completely illuminates the interior, and Samsung's Ice Master ice maker which produces up to 10 pounds of ice daily.
Kevin Dexter, home appliances sales and marketing senior VP for Samsung Electronics America, said the new fridge "reflects Samsung's strong commitment to offering home appliances that not only meet consumers' needs, but anticipate them in ways they never thought possible. By joining forces with SodaStream, we are able to offer our consumers something never before seen on a refrigerator and bring a new experience to the kitchen."
The refrigerator is expected to hit retail floors this April and will carry a manufacturer's suggested retail of $3,899.
Latest posts by Alan Wolf
(see all)