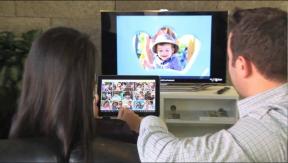 Girard, Ohio — SVS Sound, the high-performance home-audio supplier known for its extensive lineup of subwoofers, has expanded its fledgling lineup of full-range speakers.
The $499-each Ultra Bookshelf speaker, $599-each Ultra Surround and $699 Ultra Center join the $999-each Ultra Towers announced earlier this year.
SVS sells online to consumers and through select retailers.
The full-range speakers feature wedge-shaped front baffle, flush-mounted drivers, proprietary SVS drivers and SoundMatch Crossover Network to enhance sound quality, the company said.
Non-parallel cabinet panels reduce standing waves within the cabinets to eliminate frequency-response coloration, the company explained. The wedge-shaped front baffles and flush-mounted drivers reduce edge diffraction and improve on-axis high-frequency response, the company added.
All speakers feature composite glass-fiber cone woofer with a high stiffness-to-mass ratio for high sensitivity and for maintaining pistonic behavior beyond the driver's pass-band.
The speakers' SoundMatch two-way crossover network features premium-grade capacitors, air-core inductors and heavy-trace printed circuit boards to ensure pure signal transmission and "a generous sweet spot," the company said.
The speakers are available in premium-grade piano gloss black and real black oak veneer finishes.
The bookshelf model is a two-way monitor designed for small- to medium-size rooms to deliver a coherent soundstage, deep bass, and mid- and high-frequency details at high or moderate volumes. Rated bandwidth is 45 Hz–32kHz (+/- 3 dB).
The 14.9- by 8.5- by 10-inch speaker features a 6.5-inch woofer and 1-inch aluminum-dome tweeter coupled with a diffuser to deliver what the company called a "very open airy presentation and extremely unveiled highs." Recommended amplifier power is 20-150 watts.
SVS president and managing partner Gary Yacoubian said the speaker delivers the sound of a speaker twice the size and price.
The triangular Ultra Surround speaker has two baffles angled at 45 degrees from the wall, each baffle housing a 1-inch aluminum-dome tweeter and 5.5-inch woofer. The speaker can be operated in three surround modes. Bipole mode drives both sets of drivers in phase, and dipole model drives both sets of drivers out of phase for a more spacious sound. Duet mode lets each set of drivers reproduce a discrete signal. As a result, a five-speaker home theater incorporating the SVS surrounds can deliver seven-channel surround sound with just two surround speakers instead of four surround speakers, the company said.
Recommended amplifier power is 20 to 250 watts. Rated bandwidth is 58 Hz-32 kHz (+/-3 dB).
The three-way SVS Center features 1-inch aluminum-dome tweeter, 4-inch midrange driver and dual 6.5-inch woofers. The vertically aligned tweeter and midrange improves horizontal axis polar response to deliver smooth frequency response and excellent dialogue intelligibility at all listening positions, the company said.
Rated bandwidth of the 8- by 22- by 10-inch speaker is 45 Hz to 32 kHz (+/-3 dB). Recommended amplifier power is 20 to 225 watts.
Latest posts by Joseph Palenchar
(see all)