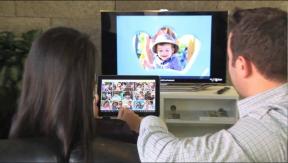 North Reading, Mass. — Rotel is ready to roll out a quartet of home audio components that include an integrated stereo amp with USB DAC, a 24-bit/192kHz CD player, and two five-channel amps, once of which boasts a kilowatt of output.
Only the CD player replaces a current model; the others are line additions.
The integrated amp and the CD player become available in May at suggested retails of $1,599 and $999, respectively. The 5×120-watt and 5×200-watt multichannel amps become available in the summer at $1,699 and $2,999, respectively.
The integrated amp is the RA-1570, rated at 2×120 watts into 8 ohms with both channels driven simultaneously. Key features include front-panel USB input compatible with Apple's mobile devices, rear-panel asynchronous PC-USB input supporting files up to 192kHz/24-bit files, two coaxial digital and two optical digital inputs, analog inputs including balanced XLR connections, and a Wolfson WM8740 192/24 stereo DAC with selectable digital filters. The amp section is Class AB. It's Rotel's first integrated amp with PC USB but not the company's first with Apple USB.
The new CD player is the RCD-1570, priced the same as the model it replaces but stepping up to a 192/24 Wolfson WM8740 DAC. The CD player also features two digital filter modes for a choice of roll-off characteristics, slot-loading disc transport that isolates the disc from potentially destructive vibration modes, and balanced XLR outputs.
The flagship multichannel amp is the 5×200-watt Class AB RMB-1585 at $2,999, which replaces the 5×250-watt Class D RMB-1575 at $2,799. Its power supply uses dual Rotel-designed and -manufactured toroidal transformers to provide proper voltages and current to rectifiers, regulators, and capacitors and serve as the first stage of filtration for incoming AC power. The transformers' toroid shape focuses stray emissions to avoid any negative impact on sound quality.
A Slit-Foil capacitor, named after the precise cuts made in its aluminum conductors, minimizes the eddy currents that reduce a conventional capacitor's ability to store and supply energy efficiently, the company said. Each channel uses six individual power transistors to ensure stable power delivery to all speakers under demanding conditions, the company added.
The RMB-1585 features single-ended inputs via RCA jacks, balanced connections via three-pin XLR connectors, and dual fans.
The other new multichannel amp is the RMB-1555 at $1,699. It's a 5×120-watt Class D model that replaces a $1,299 5×100-watt Class D model. The new model uses discrete output transistors with higher thermal stability than integrated circuit outputs, the company said. It features 12-volt remote control trigger and single-ended RCA inputs.
Latest posts by Joseph Palenchar
(see all)