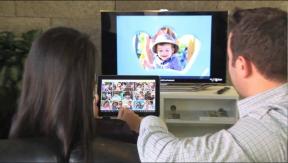 New York – Pure Audio is expanding its distribution, product selection and readying its first consumer ad campaign.
These moves include: expanding its fledgling selection of Jongo wireless multiroom-audio speakers, expanding Jongo distribution to include Walmart and Best Buy brick-and-mortar stores, and readying its first major consumer-advertising campaign, U.S. sales director Noam Meppen told TWICE.
The U.K.-based company, which shipped its first U.S. products only 2 ½ years ago, is also adding new features to its current products through a firmware upgrade.
The Jongo series of products, some of which were unveiled at International CES, consists of tabletop Bluetooth/Wi-Fi speakers, a Bluetooth/Wi-Fi adapter that connects to existing stereo systems, and a Pure Connect iOS and Android app. The app turns a smartphone or tablet into a Jongo-system controller and streams songs stored on a mobile device to multiple Jongo speakers at a time via Wi-Fi.
The apps also act as a controller to direct PC-stored songs to multiple speakers at a time, and the apps access Pure's Internet music service, which can also be streamed from a mobile device to multiple speakers at a time.
Speaker grilles are available in three optional colors to replace the standard black grill. Additional color options are planned for next year.
The Jongo lineup currently consists of a $199-everyday S3 portable AC/DC Bluetooth/Wi-Fi speaker and the $129 A2, a Bluetooth/Wi-Fi adapter that can be connected to any existing home stereo system. Both shipped in May.
In September, the company plans shipments of its AC-only T6 tabletop speaker at an everyday $349. Also in September, the company will ship a fourth product, the AC-only $149 T2 speaker. Another Jongo speaker will be launched at January's CES.
All Jongo speakers are single-chassis stereo models, but with an over-the-air firmware upgrade available since last week, each speaker can be used as a left or right speaker in a stereo pair.
September will also see the launch of premium versions of the company's Pure Connect music streaming service, which is available through the company's Pure Connect iOS and Android apps. The currently available free version, dubbed Pure Connect Green, accesses 20,000 Internet radio stations throughout the world plus 200,000 free on-demand programs and podcasts. The $4.99/month Blue version adds on-demand access to 15 million cloud-based songs and lets users create playlists from the cloud-based music library. The $9.99 Violet version adds the ability to store streamed songs and playlists in memory for off-line playback.
Pure's service can be streamed from a mobile device to multiple speakers simultaneously via Wi-Fi, but third-party music streaming apps can be streamed to only one speaker at a time via Bluetooth.
Besides building up Jongo's selection of SKUs, Pure is expanding Jongo's distribution to brick-and-mortar retailers for the first time, with all four SKUs appearing in more than 300 Best Buy stores in October and the AC-only T2, portable S3, and A2 adapter appearing in more than 2,800 Walmart stores that month.
The Jongo products will be Pure's first products available through brick-and-mortar retailers in awhile. The company previously offered some Internet table radios through Brookstone stores.
Pure also plans to expand distribution to other brick-and-mortar national and regional retailers in the fall and next year, but it hasn't been determined whether those retailers will offer Jongo products or other Pure products, Meppen said.
Pure's online distribution will also expand, he said. The company's current online distribution consists of Amazon, Target.com, OfficeMax.com, Tiger Direct, J&R.com, Buy.com, and B&Hphoto.com.
"We see exponential growth over the next year with the new outlets," Meppen said.
In the Best Buy and Walmart stores, Pure will support Jongo sales with shelf-top POP displays. At Best Buy, the displays will be interactive, playing back an educational video and letting users press a button to play back canned music through different Jongo speakers.
To support brick-and-mortar an online sales of Jongo and promote Pure Connect, Pure plans an advertising campaign that will primarily be on-line. The company will also promote Jongo and Pure Connect through social media. Pure did only limited advertising of its own in the past, Meppen said.
In other comments, Meppen said Pure plans availability later this year of its first iPod/iPhone-docking speakers with Apple's new 8-pin Lightning connector. And in September, Pure will ship optional table stands for the AC-only T6 and T2 speakers, enabling consumers to orient them in a horizontal position rather than in a vertical position. The T2 is also wall-mountable. Pricing hasn't been released.
Pure is part of the U.K.-based Imaginations Technologies Group, a technology developer whose IP appears in products such as smartphones.
Latest posts by Joseph Palenchar
(see all)