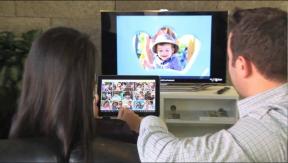 Las Vegas — The Nationwide Marketing Group rode a wave of dealer additions, rebounding appliance demand and "outstanding" furniture growth to add $1 billion in sales volume over the past 18 months.
And while the severe winter weather disrupted business for both retailers and manufacturers in January and February, the merchandising and marketing organization for independent dealers is reporting a rebound in majap order- writing in anticipation of pent-up consumer demand.
The positive sales trends, detailed by Nationwide executives at the group's PrimeTime show here this week at the Venetian, Palazzo and Sands complex, are being fanned by a host of merchandising and service initiatives designed to help members exploit market share opportunities. The latter include waning sales volume at Sears, and the vacuum in Wisconsin left by American TV's pending closure, they said.
Set against this backdrop is an evolving management team as Nationwide enters the fourth year of a five-year succession plan with two leaders-in-waiting: newly promoted president/COO Dave Bilas and executive VP Jeff Knock, who are gradually taking the reins from co-CEOs Robert Weisner and Les Kirk.
On the merchandising front, electronics senior VP Tom Hickman said Nationwide's CE sales were up last year in both unit and dollar volume compared with a flat industry, due partly to the additions of electronics-focused dealers like MicroCenter, Paul's TV and Vann's. CE comprises 25 percent of group volume.
This year, he said, Nationwide is "thrilled" by the potential that Ultra HD and OLED TV displays hold; expects distributed audio to become "a huge category" for members; and is looking to tap into alternative categories like home automation, security, digital health, wearables and unlocked cellphones.
In addition, Weisner hinted at "a new world-class system," set to launch this summer, which will help smaller dealers compete in the CE business by providing more brands and better margins.
On the white-goods side, Patrick Maloney, who succeeded Knock as appliances senior VP, said manufacturers came to PrimeTime "with guns blazing" to make up for the 6.1 percent decline in factory shipments during the first two months of the year. As a result, order writing is already back to flat year to date, and Nationwide is poised to outpace the industry's projected 4 to 5 percent growth for all of 2014, he said.
Maloney said the gains are also being fueled by the group's more profitable three-step merchandise mix of entry and better goods; renewed demand for complete kitchen suites vs. single replacement purchases; and the beginning of a replacement cycle that comps a record growth period for appliances. Majaps currently comprise 50 percent of Nationwide's sales volume.
But growth in white-goods is still eclipsed by furniture, which represents 25 percent of sales but more than 50 percent of the volume gains as more CE dealers add bedding and motion furniture, and more furniture dealers join the group.
To further spur sales and lower the barrier to entry, Nationwide Furniture president Bill Bazemore has built on the division's "phenomenal success" in private label to create an exclusive, turnkey "I America" gallery of bedding, upholstery and case goods.
Beyond the merchandising initiatives, Knock said management's focus is on maintaining member health through innovative services. These variously include:
* an expansion of a subsidized mobile info pad program for sales associates with the addition of a 7-inch Asus tablet for $40;
* a new point-of-sale system for smaller dealers that ties into the info pads;
* a partnership with 95% Share Marketing, a sales and management training firm;
* a partnership with EcoRebates, which provides dealers and their customers with a complete list of available vendor, utility, government and Nationwide rebates, broken out by ZIP Code; and
* a five-part digital marketing program, fully implemented for dealers by Nationwide, that includes website banners and vendor landing pages, non-promotional social-network postings, customer encouragement of store reviews, and optimizing brands' store locators with dealer logos.
Bilas added that the group currently boasts some 3,700 members representing more than 10,000 storefronts, although Nationwide's service offerings can readily drive membership to 5,000 dealers in 18 months.
Complete coverage of Nationwide's PrimeTime show will appear in the March 17 print edition of TWICE.
Latest posts by Alan Wolf
(see all)