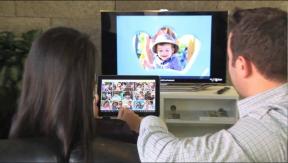 New York — Meridian is launching upgraded versions of three Reference-series audio electronics components and upgraded versions of two active DSP speakers.
Meridian also plans to offer hardware and software upgrades to owners of current models, providing various upgrade levels all the way up to achieving the same specs as the new models, a spokesperson said.
The three new audio components are the $22,000 Signature Reference 808v5 CD player, $25,000 861v8 Reference Digital Sound Controller, and the $16,000 818v2 Reference Audio Core. They will be available in late November, with upgrades for their predecessors coming in December.
The new DSP speakers are the $38,000/pair DSP7200 and its center-channel counterpart, the $19,000-each DSP7200 HC. They will be available in late November. The availability of upgrades to the previous versions wasn't announced.
Firmware and hardware upgrades to existing products will be installed by authorized Meridian dealers.
"As always, Meridian looks to protect our client's investment in our brand, and existing owners will be offered various levels of upgrades including one to full specification of new products," a spokesperson said. "This provides unique sales opportunities to new and existing clients."
The new electronics components will get such upgrades as improved linear power supplies, DSP algorithms, new filter designs, and support for such new SpeakerLink features as Enhanced Boundary Control (EBC) and Enhanced Bass Alignment. SpeakerLink is a proprietary technology that transmits PCM audio and control signals over up to 300 feet over flat cables to Meridian active DSP speakers, eliminating signal losses and coloration induced by analog signals riding on a cable.
The DSP7200 Digital Active Loudspeaker will get such new features as a new tweeter and new DSP package offering improved digital crossover design and improved low-frequency transient response. The center-channel version of the speaker will also get the ability to elevate the audio image when the speaker is placed below a home theater screen.
The 808v5 will feature a new master clock and timing circuitry to reduce jitter by 40 percent compared to the previous model, thus improving sound localization, clarity and imaging, the company said. A proprietary digital up-sampling filter system will improve the accuracy and clarity of CD playback, in part by correcting for digital faults in the original recording, to deliver the performance of high-resolution recordings, the company continued.
The 808v5 also includes new firmware to support such enhancements as subwoofer level, Enhanced Boundary Control, and bass timing and loudness adjustments.
The 808v5 also comes with an enhanced replay card for use with the Meridian Digital Media System networked multi-room-audio system, turning the 808v5 into a zone-playback device. A USB input card is also provided to connect to computer sources.
The 818 Reference Audio Core is the company's highest performance two-channel preamp with ability to play back music from a Meridian Digital Media System. The 818 v2 adds improved DSP for "even sweeter sound," and a new master oscillator reduces jitter by 40 percent compared to the previous version. The 818v2 also includes USB inputs.
The 861v8 Digital Surround Controller is the company's highest performance surround controller. New features include a new card with eight SpeakerLink outputs, which support the latest SpeakerLink features such as Enhanced Bass Alignment and center-channel image elevation. Also new is a USB input card and multiple other enhancements.
At CES, Meridian will play the new 818 and 7200 speaker at the Venetian Tower suite 30-235.
Latest posts by Joseph Palenchar
(see all)