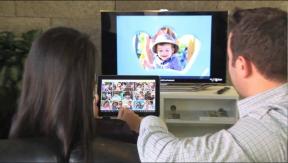 Port Chester, N.Y. — Madison Fielding, which markets outdoor planter-style speakers, expanded its selection with the launch of the Sedona series.
The series consists of a single $599-suggested planter speaker in five colors, all with 6.5-inch full-range Madison Fielding driver. It is shipping in black, Mocha, Weathered Stone, Willow and red.
The new series is more modern-looking and more affordable than the company's other planter speakers, said president Art Powers.
The planter, which sits on a stand, is made of a smooth-finish molded poly resin. A separate enclosed space in the planter's base houses the speaker, which fires downward. The stand, made of powder-coated steel with a pewter-like finish, incorporate an acoustic reflector to disperse sound. Speaker connections are made via outdoor-rated, twin-lead cable tails.
The planter section of the enclosure includes a drain to let out excess water. The planter's pot is removable so the plant can be brought indoors.
In its stand, the Sedona is 29 inches tall.
The company's planter speakers are targeted for use on decks, patios, poolside and other places where in-ground speakers aren't an option, the company said.
The speakers are available only through custom installers and specialty audio/video retailers. The company said its products are not sold by online retailers.
Madison Fielding had designed and manufactured home audio products since 1983, but since 1999, it has focused on planter speakers, which it now offers in multiple styles and in more than a dozen models. Finishes include faux stone, faux terra cotta and real wood.
All are designed to withstand the effects of weather.
Latest posts by Joseph Palenchar
(see all)