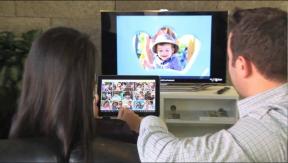 Denver – LG Electronics formally unveiled a pair of lower-price Ultra High-Definition TVs that were recently hinted at by the parent company in South Korea.
With the two additions, LG increases its Ultra HD model assortment to five.
Although not a floor exhibiter, LG made the announcement here on the first day of CEDIA Expo 2013, to flag attention to A/V specialist and custom installers who typically associate with state-of-the-art technologies.
The company also used the show to unveil its LG SoundPlate slim-design speaker system meant for today's ultra-thin flat-panel HDTVs.
The new Ultra HD TV models are part of LG's LA9650 series, with both the 65- and 55-inch versions offering native Ultra HD 3,820 by 2,160 resolution and internal up-scaling of lower-resolution content to fit the extra pixels on the screen.
Both models will be available through U.S. retailers beginning this month at suggested prices of $4,999 and $3,499, respectively. The new sets join LG's 65- and 55-inch LA9700 models, which are now priced at $6,499 and $4,499, respectively.
The step-up LA9700 series features LG's proprietary Nano Full LED array backlighting and a unique sliding speaker.
LG also offers an 84-inch Ultra HD model in the LM9600 series at a $16,999 suggested retail.
"This time last year we became the first manufacturer to launch an Ultra HD TV in the U.S. with our revolutionary 84-inch class model," said Jay Vandenbree, LG home entertainment senior VP. "Today, we're solidifying our role as the Ultra HD market leader by rounding out our lineup that incorporates technologies that allow consumers to enjoy Ultra HD picture even without 4K content."
The LA9650-series models employ LED edge-lit screens and include LG's smart-TV and Cinema 3D (passive glasses) technologies.
With picture quality the central focus, LG included its LED Plus technology, which provides brightness control through edge-LED local dimming, delivering better contrast.
Both models use LG's In-Plane Switch LCD panels for wider viewing angles.
Up-conversion of lower-resolution content is addressed through LG's proprietary Tru-Ultra HD Engine, which uses a series of algorithms designed to upscale content.
Like other LG Ultra HD models, the LA9650-series models incorporate new H.265 high-efficiency video coding (HEVC) decoders, making them forward-compatible with future content using the new advance compression scheme, as has been proposed for streaming and broadcasting.
The models also include LG's Smart Share system, which simplifies the access of content from other devices, such as smartphones, tablets and laptops, through a number of connectivity options, including DLNA, WiDi, Miracast, MHL and 2nd Display.
The sets also ship with LG's four-mode Magic Remote, which acts as an air mouse with point-and-click capabilities, gesture commands and a scroll wheel featuring voice capabilities.
Meanwhile, the company said it will ship next month its LG SoundPlate, which is billed as a new minimalist-design speaker system that boosts audio performance without upsetting the look of a room. LG said it is using the SoundPlate model LAP340 to help usher in a new generation of home-theater audio systems optimized for the newer designs in flat-panel HDTVs.
"The tradeoff for the ultra-thin TV design has been smaller speakers, which has led to a sudden market need for supplementary home audio devices," said Vandenbree. "We're augmenting our already robust line of soundbars with the LG SoundPlate to give consumers yet another alternative for powerful sound in the home entertainment center in a compact, attractive design."
The LG SoundPlate has a profile measuring 1 3/8 inches (35mm) high, and comes equipped with a 4.1-channel sound system with dual built-in subwoofers.
The 120-watt output is boosted by a unique internal structure and LG's proprietary acoustic tuning system, which makes it easier to hear dialog and other discrete sounds when watching TV shows or movies, the company said.
To further enhance sound quality, the SoundPlate features a Bass Port system, which reduces harmful vibrations from within the speaker enclosure.
LG said its Cinema Mode feature optimizes the LAP340's surround sound capabilities, creating an immersive field of multidirectional audio.
LG's Bluetooth-enabled Sound Sync system enables pairing the SoundPlate with other compatible devices, such as smartphones, so consumers can wirelessly stream music in range. The feature also enables the SoundPlate to connect wirelessly to a compatible LG TV.
The SoundPlate has a low-profile, sleek matte finish and is primarily meant to act as a pedestal for 32- to 55-inch TVs. LG said it is compact enough to fit in shelving units or TV stands.