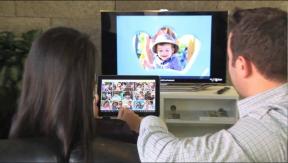 New York – New home audio products keep on coming from Harman, which unveiled two new JBL-brand wireless speakers that plug into a home's AC outlets like night lights.
The one-piece speakers are the $179-everyday SoundFly BT Bluetooth speaker and the $199 SoundFly Air with built-in AirPlay and Wi-Fi.
The speakers, available in stores in mid October, are designed for bathrooms, kitchens and other rooms in which tabletop or counter space is limited, said Daniel Lee, head of Harman CE marketing for the Americas. The speakers are also suitable for outdoor use, he said.
Each speaker is about 7 inches wide in back. The front baffle is not as wide. The speakers incorporate two full-range drivers, an amp rated at about 2×5 watts, and DSP to enhance sound quality. Each speaker comes with modular two- and three-prong AC plugs that snap into the back of the speakers.
Up to four speakers at a time can play back music streamed from a PC's iTunes application.
Earlier this month, Harman announced a dozen new Harman Kardon and JBL home audio products, including HK's first A/V receiver with Apple AirPlay, new opening price points on HK AVRs, and an expanded selection of JBL active soundbars and iPad-docking speaker systems. All ship in October along with a new series of Infinity Kappa car speakers.