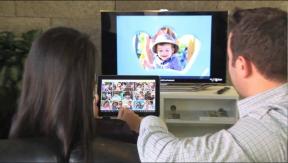 Port Washington, N.Y. — iLuv Creative Technology has begun shipping its 10-bay iPad sync and charger for a $799 suggested retail.
The MultiCharger-X (iAD910) is designed for schools and offices and can be daisychained with other models to sync up to 30 iPads. Features include rounded corners for safety, handles and optional attachable wheels for portability, and a locking door with two included keys. It has individual three-color LED indicator lights.
Users can sync data, menus and updates across multiple iPad devices, iLuv said. It will work with Lightning and 30-pin iPads.
"iLuv is excited to announce that our first-ever accessory specifically geared towards the enterprise customer, the MultiCharger-X, is now available," said Jason Park, iLuv marketing manager, in a statement. "Tablet use in enterprises, including small businesses, restaurants and medical offices has seen tremendous growth in recent years. MultiCharger-X makes it easy for these businesses to charge and sync multiple iPad devices, ensuring that all information and records are readily available and always accessible whenever needed."
Additional accessories for MultiCharger-X can be purchased at iLuv.com, including caster wheels with brakes, 30-pin cable bundles and Lightning cable bundles. It comes in several colors