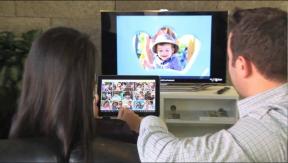 Atlanta — The NCAA Division I Men's Basketball Final Four in Atlanta was the first major U.S. sporting event recorded in 4K as part of a closed-circuit demonstration in Ultra High Definition by LG Electronics and partners the NCAA, CBS Sports and Turner Sports.
The action was captured in 4K resolution for displaying game highlights on LG's 84-inch class Ultra HD TVs at private viewing locations in the Georgia Dome.
"After being the first to market with Ultra HD TVs, it only seems fitting that we'd be a part of the first major U.S. sporting event produced in 4K," said James Fishler, marketing senior VP, LG Electronics USA, an official NCAA corporate partner. "The Final Four is the perfect place to demonstrate this next frontier in picture quality as LG continues to drive the Ultra HD market."
Matt Hong, senior VP and general manager of sports operations, Turner Sports, said, "When we first approached our partners at LG and CBS with this idea, we recognized the unique opportunity to pair this inaugural 4K production with the 75th celebration of March Madness in Turner Broadcasting System's hometown of Atlanta."
He added, "We continue to embrace innovation and look at this test of next-generation television technology as a way to potentially serve fans for decades to come."
Ken Aagaard, executive VP of operations, engineering and broadcast services, CBS Sports, said, "CBS made high-definition sports broadcasts a reality with the Final Four in HDTV over a decade ago, and now we're leading the way into the 4K era. March Madness is always filled with big moments, and this demonstration shows how Ultra HD TV can ultimately become the future of sports broadcasting and enhance the viewer's experience."
The demonstration builds on LG's role as the first company to commercialize Ultra HD flat-panel TV technology, launching the first model in the United States last fall. The 84-inch model, as well as the upcoming 55- and 65-inch models, boasts exceptional picture technology that creates astonishingly vivid images with 3,840 by 2,160 resolution — more than 8 million pixels, LG said. The company added that its Resolution Upscaler Plus technology renders lower-resolution content in high detail, creating a wealth of compelling content options.
The LG 84-inch Ultra HD TV is available now at selected retailers at a suggested price of $19,999.
For more information on LG's presence at the NCAA Final Four, visit LG.com/NCAA.