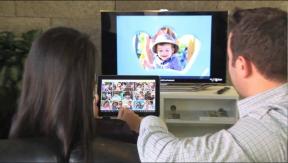 Las Vegas – Brands and marketers must learn to leverage the power of social networking and mobility – and integrate those tools with broadcasting and other traditional media – to more closely communicate with their customers.
That was the conclusion of the Brand Matters power panel on Wednesday, comprised of leading media and marketing executives and moderated by MediaLink chairman/CEO Michael Kassan.
Panelist Carolyn Everson, global marketing solutions VP for Facebook, described "a new world order" for marketers in which the silos of the past are being broken down and replaced by multiple communications partnerships and platforms. To that end, CES has become "a critical week for marketers," who can discern quickly evolving technology trends and "see what excites and delights consumers."
Scott Dorsey, CEO of Salesforce ExactTarget, concurred. "We're focused on marketers connecting with customers in a whole new way, managing every touch point, and choosing the right time and the right channel to deepen and build relationships.
"With the convergence of the cloud, social marketing and mobile, it's a great time for marketers," he said.
James Farley Jr., global marketing sales and service executive VP for Lincoln, Ford Motor Co., acknowledged that his company is still "trying to figure out" the potential of a plethora of marketing mediums while maintaining "a very high-level relationship" with social network companies, which are not just media concerns but will also be operating within the car.
In a separate first-half interview, Twitter CEO Dick Costolo described tweeting as "an indispensable companion to life in the moment," and said the real-time public conversation that flows from his platform allows marketers to quickly connect with consumers in the context of that digital discourse. "It's not an interruption if it's in context," he said.
All agreed that mobile is quickly becoming the channel of choice for marketers and consumers. Facebook's Everson conceded that her once desktop-centric company hadn't understood the significance of smartphones, and was ultimately revitalized when chairman, founder and CEO Mark Zuckerberg performed a major pivot and "built mobile apps to delight the consumer."
Now, she said, Facebook's "entire future is based on mobile," which is the closest thing to the consumer.
Similarly, beer and smartphones go hand in hand, demonstrated Andy England, executive VP and chief marketing officer of MillerCoors. "Whether you're in a bar or watching the playoffs next week, beer and smartphones are used together," he said, holding his iPhone in one hand and a water bottle in the other.
Added ExactTarget's Dorsey: "Consumers are hyper-connected by super computers, and it's an amazing opportunity for marketers. Every company is now a software company, building an app to know its customers more, and connected devices are now providing physical data about them as well."
But Maurice Levy, chairman/CEO of the massive Publicis Groupe ad agency, warned of the misuse of Internet of Everything connectivity and data collection, particularly in light of Edward Snowden's recent National Security Agency revelations.
"Privacy concerns, and utilizing private data to commercialize a product, are very serious issues," he said, noting that restrictions on access to personal information are much tighter in Europe.
Still, about 95 percent of European consumers elect to not opt out, he noted, which allows more relevant communications to reach them and helps limit spam. Twitter's Costolo also pointed to his platform's "Do Not Track" option, and the ability of users to opt out of tailored ads.
Concluded Everson: "We are still so early-stage as an industry. We have to re-plumb and rebuild the system to keep pace with the faster cadence of creativity."
Latest posts by Alan Wolf
(see all)