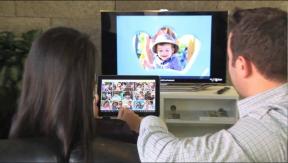 Framingham, Mass. — Bose launched its first iPod/iPhone-docking speaker with Apple's new eight-pin Lightning connector.
The new speaker allows the docking of the iPhone 5, fifth-gen iPod, and seventh-gen iPod Nano without the use of Apple's $29 Lightning-to-30-pin adapter.
The AC-only speaker, called the SoundDock Series III, became available this weekend at Bose.com in gloss black at $249. It will also be sold at authorized Bose dealers, Bose retail stores and Bose's toll-free number.
The company has not yet announced whether it will offer a modular Lightning module for its $599 SoundDock 10, which was designed with swappable 30-pin Apple module and stereo Bluetooth module included in the price. The speaker's 30-pin module, however, accepts Apple's $29 Lightning adapter.
The company continues to offer the $249 SoundDock II, which features 30-pin connector and accepts Apple's $29 Lightning adapter. The SoundDock II is currently advertised by Bose's website at $224 through December.
An included remote control operates SoundDock III and II speaker functions and basic i-device functions, such as on/off, pause, volume, track seek/scan and playlist navigation. Both speakers also feature an auxiliary input to connect other audio devices. Neither feature a video output.
Proprietary acoustic design and digital signal processing are used to deliver accurate, detailed sound with wide imaging, the company said.
The launch follows the mid-September availability of the company's first AirPlay-equipped speaker, the $349 SoundLink Air with optional $89 rechargeable battery.
Latest posts by Joseph Palenchar
(see all)