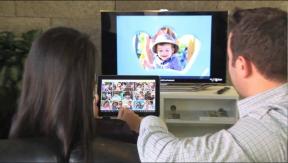 Toronto – Bob Gassel, VP of engineering and product development for the Paradigm, MartinLogan and Anthem audio brands, passed away at the age of 63.
The 40-year industry veteran, based in Carmel, Ind., worked with the three brands for four years, initially as international sales VP. Before that, he was principal of The Gassel Group, a company that he founded to coach salespeople.
Before he founded The Gassel Group, he worked at Klipsch Group for 14 years in a variety of executive positions, including sales director for Asia, global director of training, and director of customer service and technical support.
Gassel died unexpectedly of health-related complications, a spokesperson said.
"His commitment and dedication to guiding the development of new Paradigm, MartinLogan and Anthem products, and his success in helping grow these brands on the international stage, is much appreciated and will be remembered," said Paul Grove, global sales and marketing senior VP for the three brands. "As a key member of our team, Bob's expertise, thoughtful input and attention to even the smallest detail will be greatly missed."
Gassel's family will host an open house at Gassel's home on Saturday, Feb. 8, from 4 p.m. to 8 p.m. The location is 11651 Valleybrook Place, Carmel, Ind.