It's almost a given that Amazon would cap a Top 25 CE E-tailers Report, now that the company is the country's second-largest tech merchant across all sales channels.
What's surprising, and certainly welcome news for the electronics industry and brick-and-mortar stores of all stripes, is how robust online growth has been across the board.
According to TWICE's third annual ranking of the tech industry's largest online sellers, produced with leading retail market research firm The Stevenson Company, high double-digit gains are no longer the province of Amazon alone, as massive investments in e-commerce operations by physical chains are starting to gain some serious traction.
Click here to purchase the report.
Take Best Buy, which leapfrogged Apple to win second place on TWICE's Top 25 charts. Aside from cutting costs, chairman, president and CEO Hubert Joly made building up the company's once industry-trailing online business a core focus of his Renew Blue turnaround strategy. The result: Between a website overhaul, enhanced supply chain and distribution efficiencies, more competitive pricing, faster shipping and new ship-from-store capabilities, the company drove a 16.5 percent increase in online CE revenue last year, to $4.3 billion, and raised its online penetration from 12.3 percent to 13.8 percent of total sales.
But not all cyber investments are getting the same bang for the buck. Fourth-place Walmart, which has poured billions into dedicated e-commerce distribution centers, two-day shipping pilots and new mobile commerce technologies, saw its online CE sales increase 7.6 percent last year, to $3.4 billion. Not bad, especially compared with the prior-year's 13 percent decline. But as Wal-Mart Stores president/CEO Doug McMillon himself noted during last month's first-quarter earnings commentary, a 7 percent increase — the rate of the retailer's global e-commerce sales growth — is simply "too slow."
That begs the question of whether investments in multichannel retail are worth it. Granted, Amazon is sucking up brick-and-mortar market share, and online orders have apparently surpassed in-store purchases. But a new report from Goldman Sachs argues that returns from infrastructure improvements are diminishing.
"We continue to believe that this effort is dilutive for most retailers, more so now than in prior years," lead retail analyst Matthew Fassler observed. "The economics of layering on direct distribution are challenging for many companies and categories, and some retailers are indicating that, on a standalone basis, the channel itself is not as lucrative as they previously contended."
Just ask Sears Holdings chairman/CEO Eddie Lampert. Despite making "integrated retail the foundation of our business model," Sears suffered the biggest decline on the Top 25, as online tech sales fell 27 percent to $229 million last year; the e-commerce sales mix shrunk from 16.5 percent to 14.4 percent of total CE sell-through; and Sears' ranking dropped from 14th to 23rd place.
Best Buy leapfrogged Apple on this year's rankings.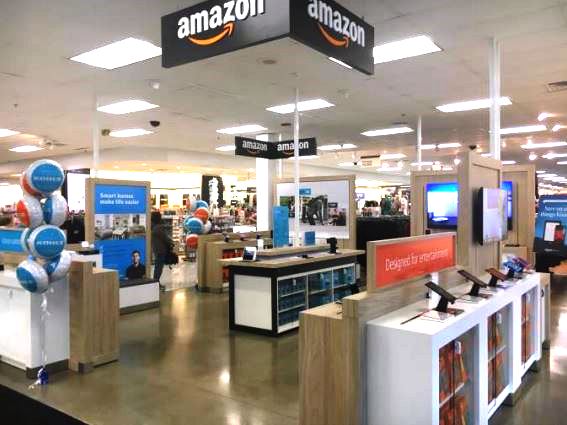 At the opposite end of the spectrum, No. 1 Amazon drove a 28.1 percent increase in CE sales, to $23.1 billion, as it too directed its awesome cash flow into warehouse construction, pick-and-pack robots, drone delivery systems, Prime subsidies and private-label tech development, often at the expense of profits.
But CEO Jeff Bezos can afford to take the occasional hit, and continue to fuel his investments, thanks to the company's highly profitable Amazon Web Services (AWS) unit, a revenue stream traditional retailers lack.
Still, that didn't stop 24th place Micro Center from barreling onto the Top 25 charts. The computer specialty chain, which ranks 11th among all CE retailers, mounted a chart-topping, 29.2 percent spurt in online CE sales last year, to $225 million, just $4 million shy of Sears.
Methodology
The TWICE Top 25 CE E-tailers Report ranks the leading domestic CE dealers by online sales of consumer electronics through the combined ecommerce and mobile-commerce channels.
Sales figures are based on information that was supplied by retailers responding to a 300-dealer survey by TWICE and research partner The Stevenson Company. Absent retailers' input, estimates were developed from Stevenson's syndicated TraQline quarterly market tracking surveys of 150,000 shoppers; industry sizing based on wholesale shipment figures from the Consumer Technology Association (CTA) and other sources; and average retail price points by product.
All estimates were further refined through the use of public filings with the Securities and Exchange Commission (SEC), TWICE industry analyses, retail analysts' financial reports, published data and other external sources.
Once the estimate was determined to be a reasonable assumption of the retailer's CE sales, the figure was broken out by product category based on the TraQline surveys.
Sales figures by total and by category for 2015 were then compared to 2014 sales tallies, and adjusted if necessary to more closely track total reported revenue growth.
Businesses must meet the following criteria to be considered consumer electronics retailers and to qualify for inclusion in the Top 25 report:
• sells new products directly to consumers;
• sells consumer electronic products as one of its principal lines of business;
• does not offer consumer electronics products primarily to sell its transmission services, i.e. wireless carriers, cable operators, satellite radio/TV providers; and
• sells merchandise that is considered consumer electronics products as defined by the CTA.
Sales are considered to be the revenue received for the products sold primarily to consumers, including CE hardware and accessories and personal computers.