London, United Kingdom, May 4, 2022 — Veteran audio engineer/educator Richard Liggins has been a key figure in the evolution of the UK's top audio production schools for more than two decades. His studio designs, which include facilities for the University of West London [UWL] and others, have provided students with production environments ideal for teaching the craft of audio engineering at the highest possible level. To ensure that these environments are outfitted for accurate, and inspiring monitoring, Liggins has outfitted these rooms with Amphion speakers and base extension systems.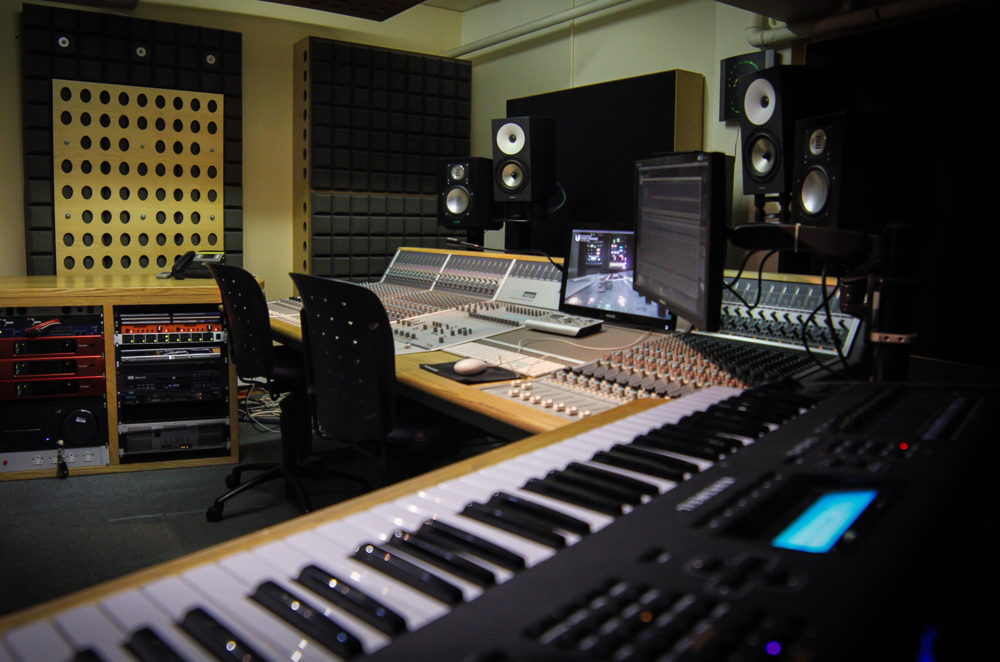 The art of critical listening
​Liggins has seen a massive change in how audio engineering has been taught in his 25 years as an educator, a process that he has had an active hand in as a technical advisor for programs at LCM and the UWL, as well as a designer for teaching studios at the London College of Communications, the University of Winchester, and more. The main thrust of these efforts has been providing students with the type of educational infrastructure that matches the level of professional facilities in the real world and allows them to learn the most important skill for any engineer — critical listening. "Most students who come into these programs are highly skilled listeners as fans of music but need to learn the art of listening as an engineer," he explained. "In order to do that, they need rooms that give them the best opportunity to do that.
"Decades ago, most programs like these had very poor teaching facilities — just piles of equipment in rooms that weren't treated for acoustics or suitable for critical listening whatsoever," he continued. "The move for properly isolated rooms with good acoustics, professional equipment, and excellent monitoring sets the next generation of students up with a much better environment to learn these skills, and to attune their ears for the details they need to succeed in their projects."
Liggins's educational philosophy is focused on teaching his students to understand these environments and acquire the expertise to make both artistic and technical decisions within them through an understanding of all aspects of audio. The impact of signal flow and quality of source is key to this understanding. "Having these facilities allows us to expose students to studio workflows and the importance of a good source and audio path in their work." he said. "Understanding what's going on at both ends of the chain and why it is happening turns these students into informed engineers who know how to make critical production decisions."
Choice of monitoring plays a major role in the production suites and teaching studios that Liggins designs. Given the diversity of programs now available to aspiring audio engineers, many of which embrace a wide variety of musical genres and multimedia applications, he has frequently utilized Amphion One18 speakers as the centerpiece of these monitoring setups. "You have to build for combinations in these rooms so that you can satisfy every style of production that a student may work on," he said. "I quickly discovered that you could put a pair of One18s into any of these room and it would satisfy everything I required — completely accurate monitoring, excellent translation, but also an incredible musicality that draws these students in to connect with the emotional impact of what they are hearing."
Low-end management from a full-range system
​Liggins favors Amphion in his own workflow as well, using a pair of One18s, Amp700, and a FlexBase25 for a three-way full range system within his home studio space. Unlike the more spacious audio production spaces that he designs, his home studio is an isolated room within his garage that presented some challenges initially when it came to low frequency monitoring. "It's a battle against physics in any small room to get a proper low frequency response," he explained. "Bringing FlexBase25 in there was a revelation because it allowed me to precisely tune the response to what I needed and the translation of those frequencies has been stellar ever since!"
In addition to improving his low frequency response, FlexBase25 also enabled Liggins to get more out of his One18s without any noticeable or distracting 'switch' into the subrange. "If you've got a breakpoint between your low frequency system and your main system you constantly hear it and are aware of it," he said. "This makes mixing anything in that 155 hz crossover area guesswork because you aren't sure which part of the system you are listening to."
"The beauty of FlexBase25 is that unlike standard subs, its crossovers remote the low frequency content from the main speakers. This is what makes the combination of it with the One18s so powerful – you get to control the bass levels and stereo width as well as enjoying greater clarity and headroom in the main monitors. This is why it works so well in a small room I think, it's not just more bass, it's better controlled bass!"
Whether in his studio at home or in the rooms he's designed for major educational institutions, Liggins says that the impact of correct tool choice on these environments can make all the difference in the end user experience. For him, choosing tools that balance the critical and the emotional has proven effective in all of these scenarios. "You can feed the emotional aspects back into the technical aspects of recording by choosing tools that inspire as well as inform," he said. "Amphion gives me both of those things while also being a joy to listen to — a real benefit if your career involves hours of listening every day!"
For more information about Amphion, please visit: https://amphion.fi/
About Amphion
​Amphion Loudspeakers Ltd. was established in 1998. We design and build loudspeakers that are characterized by honest and accurate sound reproduction. Precise driver integration ensures world-class imaging and phase coherency. Controlled dispersion technology helps achieve more stable results in a variety of room acoustics. All products are handmade in Finland (and the Amphion amplifiers are assembled in Finland) to ensure enduring listening quality.
Latest posts by Hummingbird Media, Inc.
(see all)