New York area retail vets Ronny Shmoel and Albert Liniado are betting that the third time will be a charm for Circuit City.
Shmoel, now working under the name Circuit City Corp., acquired the brand, domain and associated trademarks in October from IT supplier Systemax, which bought them in a bankruptcy auction but abandoned the U.S. retail channel last fall.
Once the No. 1 big-box tech chain, Circuit City succumbed to a rapidly changing marketplace in 2008, and misfired in its second incarnation as an online-only sister site to Systemax's TigerDirect.
This time, what Shmoel and his top lieutenant Liniado have in store for Circuit is an ambitious, multi-tiered game plan that calls for retail outlets, web sales, branded and private-label products, licensed kiosks, mobile shops and franchise opportunities, all under the iconic red-and-white banner.
The fun is expected to begin in June when the company opens its first store, most likely in the Dallas market, and relaunches CircuitCity.com.
>>The New Circuit City: We Ain't No RadioShack
"We want to bring profitability back into retail," said Liniado, business development VP, who previously co-ran DataVision, Manhattan's landmark IT reseller, as president. He left the company after more than two decades in 2014.
To that end, the new Circuit City will embrace MAP and UPP pricing, build margins into its private-label assortment, and will stick to a small-box retail format in affordable yet densely-populated real estate markets, he said.
The stores themselves will range from 2,000 to 4,000 square feet, and will feature product zones that present the assortment by category and brand. Targeted directly at millennials, the mix will include pre- and postpaid smartphones, as well as tablets, notebooks, wearables, networking equipment, gaming products, headphones, drones, 3D printers, health appliances, and DIY devices, all supplemented by a service desk, electronic price tags and touchscreen terminals that link customers with what is envisioned as a million-SKU selection online.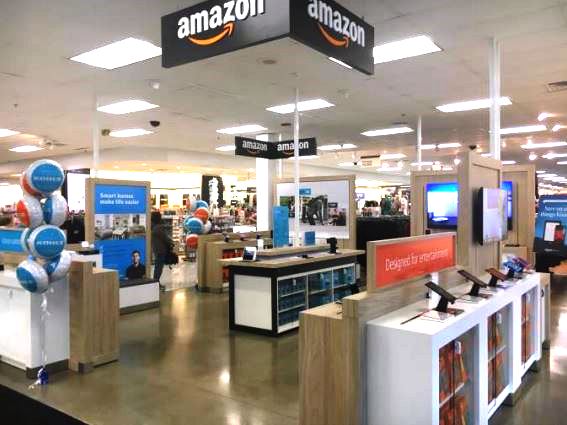 Artist's rendering of a small-format Circuit City store
In addition to tier-one brands, a global sourcing team is assembling a "quality, value-priced" assortment of USB cables, power banks, digital accessories and other items under the company's own AudioMate, DigitalMate and Circuit City badges.
The stores will be staffed with rigorously trained and accordingly compensated sales associates receiving salary plus commissions, and will be built efficiently and affordably by the same fabricator behind the AT&T and Verizon carrier stores, Liniado said.
Shmoel, CEO of the enterprise, expects to have 50 to 100 corporate-owned stores up and running by next year and, eventually, an additional 100 to 200 franchised locations.
Other brick-and-mortar offshoots will include a franchised, 1,500-square-foot Circuit City Mobile concept, and turn-key Circuit City Express sections, offering kiosks, end caps, slot walls and in-store displays. The Express shops will feature a tightly edited assortment of $9.99 to $29.99 headphones and accessories, replenishable via a B-to-B portal, which can provide convenience stores, college bookstores, hardware stores and pharmacies an easy entrée into consumer electronics.
Shmoel projected 5,000 to 10,000 such locations over the next five years.
Private-label packaging concepts
Online, Shmoel will leverage his 15 years of e-tail experience and $1 million investment in a new e-commerce platform to return Circuit City to the forefront in CE web sales. The plan includes dedicated vendor pages and a "strong, strategic presence" on the third-party marketplaces of Amazon, Walmart.com and eBay, followed by Sears.com, Jet and Rakuten. Fulfillment will be provided through a combination of tech distributors and the company's own warehouses in New York and Texas.
Marketplace price crawlers and blockers will assure the integrity of vendor-authorized merchandise, he said, and rather than compete with Amazon, Circuit City will collaborate with it by participating in Lightening and sponsored deals.
The revived Circuit City will also have a customer loyalty program and private-label credit card in place, and will establish an international presence within the next two years, he noted.
>>Circuit City's Imminent Return Begs The Question: Who Do You Miss?
Shmoel acknowledged his goals are lofty, but has a seasoned, 20-person team in place to help execute them, including former RadioShack franchise personnel, expatriates from other major chains, and a retail aficionado in Liniado.
He also has the endorsement of major brands including Intel, Sony and Canon, many of whom he huddled with during the recent CES.
"The vendors were very excited," he told TWICE. "We want to become best partners with them. Brands have become diminished in lieu of price, and consumer education has worsened with the growth of the web."
Shmoel said he has closely studied the successes and mistakes of other chains to improve upon on the shopping experience and create a destination tech store that's fueled, most of all, by the "tremendous traction and brand awareness" of Circuit City.
"People are so excited to see what we're going to do," he said.
Latest posts by Alan Wolf
(see all)