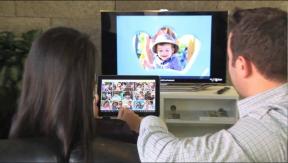 Girard, Ohio –High-performance home-audio supplier SVS is launching the smallest subwoofer in its Ultra series to broaden the potential customer base for its subwoofers.
Though the $1,599-suggested SB13 Ultra will be the smallest sub in the company's Ultra series, it will deliver as much output as Ultra's previous smallest sub at less cost, a spokesman added.
The new model, which ships Sept. 30, packs 13.5-inch driver and Class D amp delivering 1,000 watts continuous and 3,600 peak watts into a 17.4-inch-square sealed enclosure. Frequency response is 20-460Hz (+/-3dB), though in some rooms bass response will extend to 15Hz.
SVS president and managing partner Gary Yacoubian called the SB13 the company's most décor-friendly Ultra sub to date. "Its relatively compact design allows us to deliver our best technology into spaces that might not have accommodated our subwoofers before," he said.
Features include Class D amplification, EQ and DSP limiter settings designed specifically for the SB13, phase-correct crossover with adjustable frequency and slope, two-band digital parametric EQ, room-gain compensation control with adjustable frequency and slope, and an adjustable digital delay on the main speaker line-level outputs to time-align the sub with its companion speakers.
Instead of adapting the PB13's 13.5-inch Ultra 13 driver for the new subwoofer's more compact sealed enclosure, SVS revised the motor, added an ultra-high-power aluminum voice coil, and developed a custom gap extension plate to increase linear stroke and reduce distortion. The redesigned driver also includes dual linear-roll spiders, a stitched parabolic surround, and rigid ultra-light Rohacell composite cone material.
SVS has been selling its audio products only through the Internet direct to consumers, but the company recently added Huppin's in Spokane, Wash., as its first brick-and-mortar storefront dealer and plans to sell online through Huppins' OneCall operat