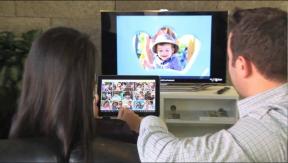 Tokyo — Sony returned to profitability in its fiscal first quarter, thanks in part to posting a profit in its TV business and favorable foreign exchange rates.
In its quarter, ended June 30, Sony net income was 3.5 billion yen ($35 million) compared with the prior year's loss of 24.6 billion yen. Operating income increased 30.1 billion yen from the prior year's first quarter to 36.4 billion yen ($367 million.)
Sales and operating revenue rose 13 percent to 1,712.7 billion yen ($17.3 billion) year on year, Sony reported.
In television, sales increased 18.2 percent year on year to 185.6 billion yen ($1.874 billion), and operating income was 5.2 billion yen ($53 million) compared with a year-earlier loss of 6.6 billion yen. The improvement was primarily due to improved product mix in LCD TVs and cost reductions, partially offset by a significant decrease in unit sales of LCD TVs year on year, Sony said.
In the entire home entertainment and sound segment, sales were up 9.3 percent to 275.2 billion yen ($2.78 billion) vs. last year, with an operating income of 3.4 billion yen compared with last year's 10 billion yen loss.
In imaging products and solutions, sales were down 10.4 percent for the quarter to $1.75 billion, and operating income was down 36 percent to $82 million. Decreased unit sales of video cameras and compact digital cameras were blamed.
In mobile products and communications, sales were up 36.2 percent to $3.93 billion due to higher unit sales and pricing for smartphones. The unit posted an operating income of 5.9 billion yen ($60 million) compared with a year-on-year loss of 5.9 billion yen.
In its game segment, sales were flat, at $1.19 billion, with the unit reporting an operating loss of 14.8 billion yen ($149 million) compared with a loss of 3.5 billion yen year on year, due mostly to the R&D costs for the upcoming introduction of the PlayStation 4 game system.
Latest posts by Steve Smith
(see all)