Editor's note: The smartphone experts at our sister site Tom's Guide have unveiled their in-depth, hands-on review of the new iPhone 12 Mini. The following is an excerpt from their review. To read the full review, click here to visit Tom's Guide.
Our Verdict
The iPhone 12 mini is an affordable and compact yet powerful flagship phone that is truly in a class all its own. It's not only the best small phone there is, but also one of the best smartphones and 5G values, full stop.
For
Perfect for small phone lovers
Capable dual cameras
Comprehensive 5G support
Incredible A14 Bionic power
Reasonable starting price
Against
Only 64GB storage to start
No charger in box
Battery life shorter than other iPhone 12 models
"How did they make it that small!?"
That's invariably the reaction of friends and family when I show them the iPhone 12 mini. They can't process how tiny this 5.4-inch device is; they didn't know smartphones could be this small anymore.
Truthfully, I didn't either. Small phone lover though I am, I have grown accustomed to the gargantuan size of modern flagships; an age where my 5.8-inch iPhone 11 Pro constitutes a "compact" handset, and devices like the 6.7-inch Galaxy S20 Plus that barely fit in your pocket are inexplicably the norm. The iPhone 12 mini feels like it was made for me.
My favorite thing about the iPhone 12 mini, though, isn't merely its diminutive frame; it's the fact that this is essentially, pound-for-pound, the very same device as the 6.1-inch iPhone 12 I've already reviewed. You expect corners to be cut in downsized premium smartphones, yet the iPhone 12 mini never makes them. As you'll see in our iPhone 12 mini review, aside from unavoidable sacrifices to battery life, this is still every bit the iPhone you want, at an even cheaper price. But it's also one that lovers of the best small phones are certain to adore.
Price and availability
The iPhone 12 mini starts at $699 on contract, from carriers like Verizon, AT&T, T-Mobile and many others. Off contract, you'll pay $729. At that price, you'll get 64GB of storage; spend another $50 to double that to 128GB, or another $150 for 256GB. Preorders are live now, and the phone begins shipping Nov. 13.
You won't get a charging adapter or wired EarPods with the iPhone 12 mini, though you will get a Lightning-to-USB-C cable in the box.
Like the other iPhone 12 models, the iPhone 12 mini is built to support sub-6GHz 5G and millimeter-wave 5G (mmWave) on every network. This should mean you'll get similar 5G band support no matter what iPhone 12 you buy; whatever differences you experience in 5G service will be down to each network's specific infrastructure and limitations.
Design and MagSafe
I never expected Apple to release a handset small enough to make the iPhone SE look big, but then 2020 has been all about subverting expectations.
The iPhone 12 mini has a 5.4-inch display that stretches nearly from edge to edge, impeded only by a notch. Because the screen dominates the device's surface area in the way that it does, there's far more available real estate than what the 4.7-inch SE offers, even though the iPhone 12 mini's footprint is nearly three-tenths of an inch shorter and a tenth narrower. That's quite an achievement, considering modern phones' wealth of power-guzzling componentry and need for big batteries.
You almost have to relearn how to live with a device and screen this small; I found my thumbs clashing into each other more often when typing, for example. But the adjustment period isn't daunting, and as an iPhone 11 Pro owner, I have to admit there's a part of me that wants to swap out my iPhone for the 12 mini. It's just so easy to hold and reach every corner of the display.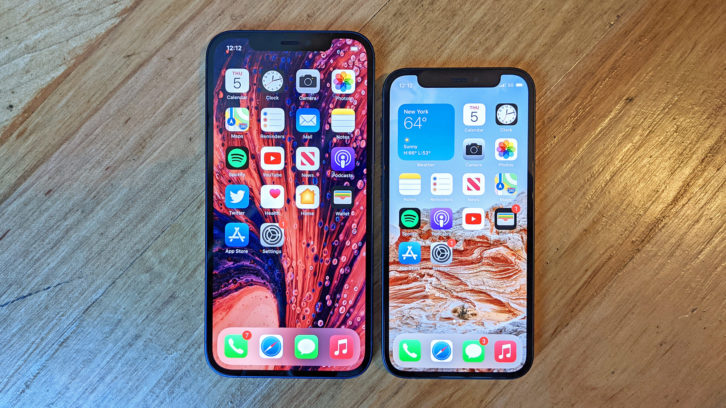 Aesthetically and structurally, the iPhone 12 mini is identical to the 6.1-inch iPhone 12, only smaller. You have the same flat-edge, matte aluminum design, mostly-glossy glass back and flat display protected by Apple's new Ceramic Shield material that promises 4x improved shatter resistance. Cupertino has also improved water resistance yet again, as every iPhone 12 is built to withstand up to about 20 feet of submersion for a maximum of 30 minutes.
This is a premium-looking, premium-feeling iPhone for $700, and there's almost nothing to complain about. Though, if I were forced to nitpick, I'd say the notch is harder to ignore on the iPhone 12 mini. It's essentially the same size as it is on other larger models, and therefore dominates more of the mini's tiny display. Nevertheless, the overall package is beautiful.
The back of the iPhone 12 mini is where you'll find Apple's new MagSafe system, which can be used for wireless charging or a range of snap-on accessories, like a leather wallet attachments, sleeves, cases and so on.
There's no significant difference in the way MagSafe operates on the 12 mini relative to other iPhones, save for the fact that Apple has reduced the phone's peak charging speed over MagSafe to 12 watts, down from 15 watts on the other models. Still, because the 12 mini's battery is so much smaller than those in the other models, charging speeds are likely to shake out even — more on that later.
Display
Apple has closed the gap between the regular and Pro iPhone models this year by offering OLED displays on all of its devices. If you're upgrading from an LCD-powered iPhone 8 or earlier, or perhaps the iPhone XR, the iPhone 12 mini's screen is going to present a big leap forward.
Just about everything looks richer on an OLED display. Colors are more vivid, while blacks especially are deeper and truer-to-life. Watching the trailer for The Kid Detective on YouTube, I was drawn to the pastiche of reds, yellows and oranges blanketing the trees of the bucolic autumn suburb in which the film is set.
One thing missing from the iPhone 12 mini's display repertoire, however, is a high refresh rate. The non-Pro iPhone 12 models were likely never in the running to receive 120Hz panels, but it has to be said that similarly-priced handsets from other companies — including the Google Pixel 5, the OnePlus Nord or Samsung's Galaxy S20 FE — all offer 90Hz or 120Hz screens. The iPhone 12 mini's display is indeed very colorful and rich, however the overall experience of using the device feels less responsive all around on account of that traditional 60Hz limitation.
Under our light meter, the iPhone 12 mini's screen registered a maximum full-screen brightness of 505 nits. That's far from the best we've ever seen — the regular iPhone 12 reached 569 nits, for example, while the Galaxy S20 FE topped out at 679 nits. If we were to wager a guess, the iPhone 12 mini's peak brightness is likely curtailed a bit to eke the best possible battery life out of the device's relatively small battery. Still, it's easy enough to read the display outdoors on a sunny day.
In terms of color reproduction, the iPhone 12 mini captured 117.8% of the sRGB color space and 83.4% of the wider DCI-P3 gamut, indicating hues that lean toward realism, but may seem a bit muted compared to what other handsets present out of the box. For example, the Galaxy S20 FE registered 133.3% in DCI-P3, which translates to far more saturation.
The full hands-on review covers even more aspects of the iPhone 12 mini, including our expert's review of the iPhone 12 mini's cameras, performance, battery life and 5G. Click here to visit Tom's Guide and continue reading the full review.
See also: OnQ's iPhone 12 Retail Security Brackets Available Now
Latest posts by Tom's Guide Staff
(see all)