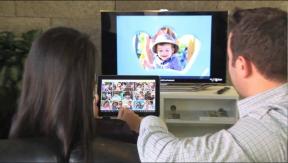 Los Angeles — Ematic took the wraps off another kid tablet this week, this time a stepped-down version of its FunTab Pro.
The new tablet, known simply as the FunTab, runs Android 4.0 and is also geared toward children. Both models have capacitive 7-inch touchscreens with 800 by 400 resolution, but the FunTab drops its suggested retail to $119 (vs. the FunTab Pro's $149), its RAM to 512MB (vs. 1GB), its internal memory to 4GB (vs. 8GB), and its battery life to five hours (vs. eight).
It too has front and back cameras, built-in Wi-Fi, and a MicroSD slot that supports up to 32GB of storage. The FunTab comes in blue/green and pink/purple.
Latest posts by Lisa Johnston
(see all)