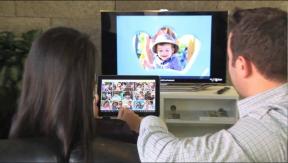 Santa Monica, Calif. — Sony Electronics unveiled and put on sale its 65-inch curved-screen LED HDTV at a special Video & Audio Center event, here, last night.
The retailer sold 22 Sony HDTVs, nine of which were the KDL-65S990A 65-inch curved LED HDTV, described as the world's first curved-screen LED HDTV of that size.
The retail price for the 5 p.m. to 8 p.m. event with Sony executives was $3998 for the model, with Tom Campbell, corporate director of the retailer, saying that sales tax for the 22 Sony TVs sold that evening was paid for by Video & Audio Center.
The retailer reported it also sold Sony's 4K home-theater projectors, and a high-res audio line that can play back virtually any file format and deliver audiophile sound, Video & Audio Center said.