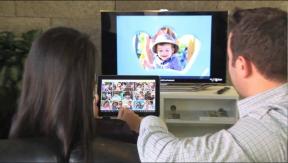 Wayne, N.J. — Toys "R" Us launched Thursday a new online streaming and offline download entertainment service, called Toys "R" Us Movies, that will provide a platform of entertainment content for families and kids.
The service, which is powered via a user interface and platform developed by Rovi, features more than 4,000 titles, and includes easy-to-use, customizable parental controls.
The service's library is said to include some premium movie content that will be available the same day its hits retail store shelves and television shows the day after they air.
Toys "R" Us Movies will also include select new releases before they go on sale, including DreamWorks Animation's "Madagascar 3: Europe's Most Wanted," which has been made available for digital download nearly two weeks before the DVD is available in stores.
Toys "R" Us is another national retailing giant to announce its own online streaming entertainment service. Both Walmart (Vudu) and Best Buy (CinemaNow) have previously launched apps-based streaming services available through a wide variety of electronics devices.
Video fare is offered by Toys "R" Us Movies on a pay-as-you-go basis with no subscription required. Movies start at $2.99 for a 24-hour rental and at $5.99 for a licensed digital download or stream.
Television shows start at 99 cents, with the majority priced at $1.99.
Toys "R" Us Movies gift cards will be available later this fall in Toys "R" Us stores nationwide just in time for the holidays.
Service users will also have access to bonus content including popular movies and free 10-minute movie previews.
Once customers select movies or television shows from Toys "R" Us Movies, they can be downloaded and stored in their personal Toys "R" Us Movies library for future viewing.
Toys "R" Us said offline viewing will also be possible using the Toys "R" Us Movies download player, which is currently available for PC users.
"At Toys "R" Us, we continuously strive to bring exciting technologies and services to our customers and to extend the Toys "R" Us brand into new areas," Michael Scharff, Toys "R" Us new ventures senior VP, said in a statement announcing the service. "With Toys "R" Us Movies, we are able to leverage our valued relationships with leading digital and theatrical partners to provide great services and content we know families will love."
Users will be able to stream content available from the ToysRUsMovies.com website on PCs, Macs and Adobe Flash-enabled devices.
The company said it plans to expand the service to additional web-enabled devices in the coming months, including Blu-ray players, televisions, tablets and more.
Plans include providing high-definition content "in the near future," and later this fall iOS and Android apps will be available to access Toys "R" Us Movies from those devices.
The Toys "R" Us Movies app will be featured in the new "tabeo app store." Tabeo is a new Wi-Fi tablet designed and developed by Toys "R" Us. Some 7,000 free apps are available for the device in the tabeo App Store.
The toy chain will introduce the Tabeo device exclusively at Toys "R" Us stores and online starting Oct. 21 at a $150 retail selling price.
Rovi is supplying its guide technology to help Toys "R" Us Movies users quickly browse content by age, from toddler to young adult; character, such as Barbie and Batman; genre, including animation and family; and more.
The site also offers curated movie collections for browsing, including "Classic Disney" and "Spooky Stories."
Additional holiday-themed collections will be featured at appropriate times of the year.
Parental controls include the option to use a PIN number to order any content. Users must be 18 years or older to register for an account. Customizable controls allow parents to choose to display only titles with specific movie and television ratings.
Rovi said it will provide ongoing customer support to Toys "R" Us Movies users. Customer representatives will be available via email, phone and live chat on ToysrusMovies.com for support.
Content for the service will come from most major Hollywood studios including, 20th Century Fox, Anderson Digital, Gaiam Vivendi Entertainment, Lionsgate/Summit, Magnolia Pictures, NBCUniversal, Paramount Pictures, Phase 4 Films, Sony Pictures Home Entertainment, Starz Media, The Walt Disney Studios and Warner Bros. Entertainment.
A spokesman for Toys "R" Us Movies told TWICE that at this time the service is not part of the UltraViolet digital content locker initiative that makes titles available for playback on a range of different devices.
Disney, which was developing its own video on demand security system called "KeyChest and a major content supplier to the new service," is one of the few Hollywood Studios that have not aligned with the UltraViolet initiative administered by the Digital Entertainment Content Ecosystem (DECE).
Toys "R" Us said it expects additional content sources will be added on a continual basis, the company said.
The Toys "R" Us Movies service will continually offer special sales, including one running now through Oct. 16, with the following:
• "Hotel for Dogs" – originally $9.95, now $7.99
• "The School of Rock" – originally $9.95, now $7.99
• "Spider-Man" – originally $11.95, now $7.99
• "The Karate Kid (2010)" – originally $9.95, now $5.99
• "Planet 51" – originally $9.95, now $7.99
• "Cloudy with a Chance of Meatballs" – originally $9.95, now $7.99
Toys "R" Us will launch the service with a comprehensive marketing campaign including in-store signage, email blasts and print and online advertisements.