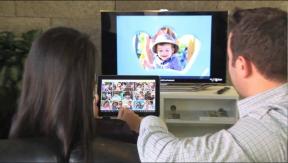 Arlington, Va. — Executives from American Express, AT&T, Coca-Cola, Salesforce.com, Samsung and Unilever will join the Brand Matters keynote at the 2013 International CES.
According to the Consumer Electronics Association (CEA), which owns and produces the show to be held Jan. 8-11 in Las Vegas, the Brand Matters keynote brings together executives from the world's top brands to discuss how technology and digital platforms are impacting marketing and brand strategy on a global scale.
The Brand Matters program educates and assists executives in navigating CES through exhibits, conference sessions and events and is sponsored by MediaLink.
"The nearly 5,000 advertising and marketing executives in attendance at last year's CES demonstrate the importance of brands on the CE stage. These Brand Matters keynote speakers have proven themselves as marketing leaders whom others can learn from," said Karen Chupka, events and conferences senior VP, CEA. "We are pleased to welcome these luminaries and can't wait to hear how Cloud technology is creating new opportunities for reaching their consumers."
For years, executives from names like Akamai, Facebook, GE, Hyundai, Microsoft, Walmart, IPG and WPP have shared their vision on keynote panels at CES.
Moderated by Michael Kassan, chairman and CEO of MediaLink, the Brand Matters keynote focuses on "Marketing in the Cloud." Kicking off with a fireside chat featuring Marc Benioff, chairman and CEO of Salesforce.com, the keynote will then feature a spirited panel discussion, featuring top marketers, on the benefits of the Cloud to connect with consumers. The keynote is scheduled for 11 a.m. Wednesday, Jan. 9, in the LVH Theater.
"Brand Matters at CES has become a tent pole event for the media and marketing industry. It allows brands to witness the latest in technology innovation and the human behaviors enabled by connected devices," said Kassan. "The keynote this year speaks to one of the most salient trends in marketing — how to harness software innovation to derive insights and improve marketing performance."
This year's Brand Matters keynote will feature:
Marc Benioff, chairman and CEO of Salesforce.com. He founded the company in 1999, and created an on-demand information-management service that would replace traditional enterprise software technology. He is regarded as one of the pioneers of Cloud computing and has been instrumental in helping businesses transform by embracing social and mobile cloud technologies to connect with customers, partners and employees in new ways.
Michael Bowling is the chief marketing officer of business solutions for AT&T. He is responsible for growing strategic business services including network sourcing, mobility and IP networking. Prior to his current role, Michael was president of AT&T Mexico, responsible for managing AT&T's relationship with Telmex, Telmex International and America Movil.
Josh Silverman is an executive who has built and run some of the world's most well-known consumer technology companies. In July 2011, he joined American Express as president of U.S. consumer services, responsible for leading the U.S. consumer card and travel businesses. His portfolio includes the company's iconic green, gold, platinum and Centurion charge cards, its credit cards, as well as its loyalty programs like Membership Rewards and Fine Hotels & Resorts, which provides special amenities for consumers and increased business for merchants.
Joseph Tripodi is executive VP and chief marketing and commercial officer of the Coca-Cola Company. He leads the global marketing, customer management and commercial leadership efforts of the company to develop and leverage its capabilities, brands and properties to meet the needs of consumers and customers worldwide to drive profitable growth.
Brian Wallace is strategic marketing VP at Samsung Telecommunications America, accountable for developing the vision and execution of the Samsung Mobile Consumer and Enterprise brand. He is responsible for all outbound Samsung mobile communications including all paid media, digital marketing, social media, product marketing, consumer relationship management, market and consumer research, and strategic partnerships.
Keith Weed is Unilever's chief marketing and communications officer. He is also on the Unilever executive board. His role includes leading Unilever's sustainability efforts, as well as its potable water business and the Unilever brand. He has worked for Unilever globally and regionally in a variety of general management and marketing roles.