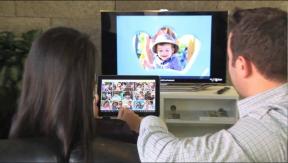 Amherst, N.Y. — Stampede Presentation Products has signed an agreement to sell Circle Technology's new line of portable, wireless, Internet-free presentation system solutions.
Available for delivery from Stampede beginning next month, the Circle Technology presentation system is intended to revolutionize the way small groups present and share information, according to Steve Hix, president of Circle Technology. "It is the first portable, wireless, paperless presentation system that allows presenters to put content into everyone's hands without the Internet, anywhere at any time."
Comprised of high-quality resolution Circle Displays and Circle Wizard Software, the system allows users to screen share anything from a computer to multiple Circle Displays with no paper, no binding and no networks, Stampede said.
The 1,280 by 800 HD resolution Circle Displays allow presentations to be put directly into the hands of the audience, without bulky printed presentations or the seemingly endless distractions that could be found on their own devices. The Circle Wizard Software is compatible with Windows 7 and 8, making it possible for the software to be downloaded to any PC that uses Microsoft OS, the distributor said.
Circle Technology presentation system packages, all backed by a one-year warranty, will be available from Stampede in the following configurations:
Single Pack: This pack features the Circle Wizard Software, one Custom Circle Display and Circle Display Stand, and the Circle protective sleeve. The Single Pack is available for $999.
Circle Wizard Package A: This package offers the user the Circle Wizard Software, 2 Custom Circle Displays and Circle Display Stands, a Slim Circle carrying case, and a Circle protective sleeve, all for a price of $1,799.
Circle Wizard Package D: This deluxe package features the Circle Wizard Software, four Custom Circle Displays and Circle Display Stands, and a carrying case with a charging system, allowing the user to keep their displays charged at all times. This package is available for $2,999.