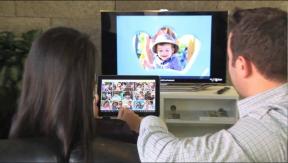 Tokyo – Early reports that Sony was preparing to sell its Vaio PC business proved to be accurate Thursday, as the electronics giant announced it is splitting its TV business into a standalone entity by June 2014 and will sell the PC business and Vaio brand to Japan Industrial Partners (JIP).
The announcement, which was made as part of Sony's regular third-quarter 2013 earnings statement, said the JIP deal is scheduled to be completed by the end of March 2014.
The Vaio move comes after Sony reported a spiraling drop in demand for its PCs in a succession of earnings statements.
CEO Kaz Hirai called the decision "agonizing" in an earnings conference call.
Sony said it will no longer design and develop PC products, and manufacturing and sales will be halted after the latest Spring Vaio product lines go on sale around the world.
Sony also said it will shift its resources toward the development and sales of smartphones and tablets.
Sony vowed to continue offering customers aftercare service even after it withdraws from the PC market.
Approximately 250 to 300 Sony employees involved in PC operations, including planning, design, development, manufacturing and sales, are expected to be hired by the new company established by JIP.
Sony will also explore opportunities for other employees to be transferred to other businesses within the Sony Group.
Those employees not hired by the new operation or transferred within the Sony Group will be offered an early retirement support program and reemployment assistance.
Similarly, Sony's TV manufacturing operations have followed a similar pattern, but the company reported improvement in last quarter had significantly reduced its losses.
Sony said its TV focus going forward will emphasize high-end sets and 4K Ultra HD products. Sony said it is hopeful the TV business will return to profitability in the next fiscal year, ending March 31, 2015
The company said it will now "reinforce the company's leading position in the 4K market by strengthening its product lineup while also bolstering its 2K models with wide color range and image-enhancing technologies."
"In emerging markets, Sony will aim to harness market expansion by developing and launching models tailored to specific local needs," the company said.
Sony said it will accelerate and broaden its ongoing cost reduction and operational improvement measures. The new TV operations will be optimized in size and structure for the current competitive business environment, the company said, and will be held "fully accountable for its operations."
Therefore, Sony said it is splitting off the TV business as a wholly owned subsidiary beginning in July.
"By implementing these measures, Sony is aiming to further enhance its TV business' profit structure and return the business to profitability during FY14," the company said.
.