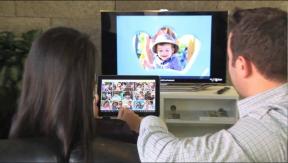 Barcelona, Spain — Sony went to the Mobile World Congress to launch its first smartphone and first tablet with 4K video capture.
The company also unveiled a slim midrange Android phone and revealed more details of its first smart band, initially unveiled at International CES.
The company also talked up a new integrated global marketing campaign to support its mobile devices.
The smartphones and tablets run Android and feature 4G LTE. The smart band and 4K smartphone and tablet are also promoted as waterproof.
The 4K tablet and smartphone, part of the premium Xperia series, are the company's first with built-in noise-cancellation technology, which is promoted as reducing ambient noise by up to 98 percent when used with a compatible wired noise-canceling headset from Sony.
The 4K phone and tablet will be available globally in March. The mid-tier Android phone and the smart band will be available in April. Prices weren't disclosed.
The 4K smartphone is the Xperia Z2 with FullHD 5.2-inch Triluminous display, 20.7-megapixel camera, 2.3GHz quad-core Qualcomm CPU, Adreno330 GPU, 3GB RAM, 3,200 mAh battery, 8.2mm depth, dedicated camera button and optional plug-in stereo microphone. It is rated at IP55 for dust resistance and carries an IP58 waterproof rating.
The Z2 phone is promoted as offering "the world's best camera and camcorder in a waterproof smartphone."
A new Timeshift mode lets users shoot video at 120 fps to create slow-motion effects.
The phone's glass panels are encased in a single, solid aluminum frame with smoother edges than before. Like other Xperia phones and tablets, the new model features Sony's OmniBalance design for a comfortable grip, the company said.
The Xperia Z2 10.1-inch tablet is promoted as the world's slimmest and lightest waterproof tablet in the 8-inch-and-larger class. The Wi-Fi version is 6.4mm thick and weighs 15 ounces and the 3G/LTE version is 15.49 ounces
The tablet features a Snapdragon 2.3 GHz processor, quad-core Krait CPU, Adreno 330 GPU, 3GB RAM and integrated Qualcomm Quick Charge 2.0 technology, which enables devices to charge up to 75 percent faster than devices without the fast charging technology, the company said. The 6,000 mAh lithium polymer battery and Sony's Battery Stamina Mode deliver up to 10 hours of uninterrupted multimedia usage and more than 100 hours music playback between charges. The 8.1-megapixel main camera is complemented by a 2.2-megapixel front camera.
For business users, the tablet is loaded with OfficeSuite Pro 7 to view, edit and share native Microsoft Office files.
The mid-tier M2 smartphone is promoted as offering the highest resolution camera, at 8 megapixels, in its class, the largest screen in its class, and slimmest size in its class, which Sony defined as 4G smartphones costing less than a suggested 220 Euros at launch.
It features a 4.8-inch qHD 960 by 540 display, Android 4.3, Qualcomm 1.2GHz quad-core CPU, Adreno 205GPU, 1GB RAM, NFC, DLNA, up to 8GB embedded memory and the OmniBalance design. It also features a 2,300 mAh battery and Sony's battery-saving Stamina Mode.
The SmartBand SWR10 communicates via Bluetooth with an Android Lifelog app to offer fitness tracking, but the app itself also lets users log places visited, music played, games played and books read for presentation on a visual interface. The app also helps users set activity goals.
Like a smart watch, it vibrates when calls, messages, Facebook Likes or tweets are received. It can also be used to play, pause and skip tracks in a Sony phone's Walkman app by pressing the button and tapping the band.
The device is IP582 rated for full waterproofing despite its MicroUSB port, the company said.
When out of Bluetooth range from its paired phone, the band vibrates. SmartBand will also measures sleep cycles.
The device also features NFC.
Latest posts by Joseph Palenchar
(see all)