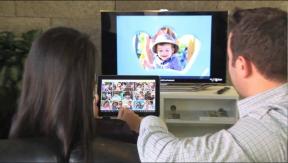 Port Washington, N.Y. – Listening to music on a tablet or smartphone is increasing, according to The NPD Group.
A new study of 2,300 mobile device owners has found that 56 of smartphone and 40 percent of tablet owners use these mobile devices to listen to music. About 39 percent of smartphone users said they listen to music at least one a day on their device, with 54 percent saying the amount of time they listen to music in this fashion has increased since last year.
Internet radio services like Pandora are the most popular with smartphone users with 65 percent indicating they use such a service. Another 30 percent use a Spotify or Rhapsody on demand-type service.
Similar numbers of tablet owners use Internet radio.
Another popular option is using the phone or tablet to store music libraries. Sixty percent of smartphone and 49 percent of tablet users fall into this camp.
This increased interest in using a portable device for music playback has led to an increase in sales of accessory products that make this activity more enjoyable.
NPD reported that 2012 wireless headphone sales are up 34 percent, 28 percent of all soundbars sold are Bluetooth enabled, up from just 6 percent in 2011.
Latest posts by Doug Olenick
(see all)