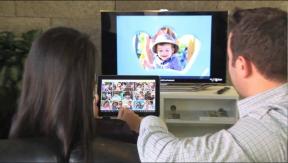 Mahwah, N.J. – Sharp plans early 2014 shipments of the first Blu-ray player certified by the WiSA (Wireless Speaker and Audio) Association to transmit multichannel audio wirelessly to active WiSA-certified home-theater speakers.
The universal player will be on display at International CES and will ship early in 204. It was named a CES Innovation 2014 Design and Engineering Award Honoree.
WiSA technology is promoted as delivering interference-free, wired-quality wireless audio in the 5.2-5.8GHz U-NII band to stereo and home theater speakers within a room up to 9 by 9 meters (29.5 by 29.5 feet). WiSA technology delivers up to 7.1 channels of 24-bit/96kHz uncompressed audio.
The technology is promoted as eliminating cable clutter, enabling more flexible placement of speakers by eliminating speaker-cable runs, and overcoming the sound quality, interference, latency and cost challenges associated with other wireless technologies designed for multichannel home theaters, WiSA has said.
Early this month, Bang & Olufsen became the first company to unveil WiSA-certified products. They include the BeoLab 17 speaker pair at $3,990/pair, the 12-sided BeoLab 19 subwoofer at $3,395, and the $6,590/pair BeoLab 18.
Since October 5, B&O has been shipping its three BeoVision 11 TVs with an embedded WiSA wireless transmitter. The TVs also incorporate embedded surround decoder. For other B&O TVs with embedded surround processors, the company offers an outboard WiSA-certified transmitter.
Latest posts by Joseph Palenchar
(see all)