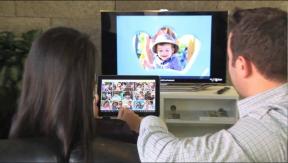 Mahwah, N.J. – Preparing to deliver its new Quattron Plus (Q+) premium FullHD LCD TV line, Sharp Electronics told TWICE last week that it is moving forward with a brand-refresh campaign that will place retail partners front and center in the effort.
Mark Viken, Sharp Electronics brand marketing VP, said the campaign will rely heavily on Internet assets, including a recently revamped company website, web-based merchandising tools, in-store merchandising and demo displays, and sales training efforts that dealers can draw from to help sell the new Q+ technology.
"The point that is critically important for us, and for our retail partners as well, is how do we make these products more valuable and raise the average selling price as much as possible?" Viken said. "We are taking the brand clearly up market."
Although Sharp will launch new Aquos Ultra HD TV models later in the year as its flagship series, proportionately, Q+ will receive the largest percentage of the company's promotional efforts and spending this year, Viken said.
The company recommends the Q+ sets be placed in the 1080p section of TV departments, "although they hold up very well against Ultra HD TVs, according to Viken, with an 80-inch Q+ set selling for about $5,000, while 80-plus-inch Ultra HD TVs still sell for more than $10,000 today.
Sharp claimed Q+ delivers the best FullHD picture on the market today.
Quattron Plus TVs were formally introduced at International CES in January and are based on a complex up-scaling and pixel mapping technology leveraging the extra yellow sub-pixel of the core Quattron technology. The Q+ technology splits each of the red, green, blue and yellow sub-pixels in half horizontally, creating 2160 vertical resolution, and a total of 16 million sub-pixels, 10 million more sub-pixels than the average 1080p set.
The system produces near 4K Ultra HD looking images on a FullHD 1080p panel, at a significant cost savings from a top-tier Ultra HD displays. The sets will also accept native 4K Ultra HD signals and down-convert them for display on the Q+ screen.
On its website and in its merchandising messages, Sharp is looking to illustrate the four main feature attributes distributed across its model series: picture quality, smart connectivity, size and design.
The effort also plays up "the fine look and feel of each of its Aquos, Quattron, Q+ and Ultra HD TV model series. We are trying to create a simple clear architecture around each of our four main series," Viken said.
So far, Sharp's communication behind the Q+ launch appears to be bearing fruit.
After International CES, Viken said Sharp's promotions and announcements around the Q+ technology launch created 1.3 billion impressions, generating 99 percent positive or neutral comments.
According to Sharp research, the Sharp brand is known to about 97 percent of U.S. consumers, and Aquos "is the strongest sub-brand in the television industry," Viken said, adding the company will be looking to more closely align the Sharp and Aquos brands together.
Sharp calls its customer demographic "solid," with a mix of men and women at an average age of 49 to 50 years old. One of the goals of the new effort it to bring the age range down a little lower, he said.
"There are plenty of younger customers who are more than willing to spend for a great entertainment experience," said Viken.
For in-store merchandising, Sharp developed an interactive Q+ display featuring a Q+ TV model surrounded with descriptive signage and educational video content discussing the benefits of the Q+ technology and the smart-TV features.
Sharp will be distributing the merchandising display to more than 3,000 stores across the country in coming weeks.
Included as part of the demo is a split-screen function that shoppers can activate with the press of a button to see a side-by-side comparison of Q+ alongside an unaltered 1080p image.
Viken said the in-store component of the campaign reflects an investment that more than doubles the company's spending on prior in-store efforts.
"We feel very strongly that we should be putting our efforts — and that's where our money's going — into the retail floor and the retailer's website," he said. "So we are spending a lot of time, effort and money on developing messaging that is very clear and consistent."
Sharp will also be working extensively with on-floor sales training to ensure that assisted sales floors are up to speed with all of the Aquos products starting with the Q+ technology and benefits. Over the next six weeks, Sharp will be conducting 73 sales training events, using 275 trainers, across the United States.
Sharp will gauge the effort's effectiveness with secret shopper tests, and will award Q+ televisions to those sales associates who are found to do the best work.
The efforts will take "all the top retailers, including regional accounts," Viken said.
In addition, Sharp is helping retailers develop the right look and feel for the Sharp brand and products on each of their websites.
Viken acknowledged that to get this level of support, a retailer is expected to make a fairly hefty investment in the Sharp line, but no specific minimum spending commitment levels are specified.
Latest posts by Greg Tarr
(see all)