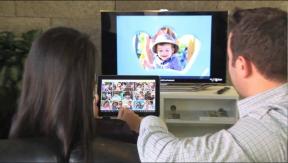 City of Industry, Calif. –– Sceptre introduced Thursday a 50-inch Roku-ready LED FullHD LCD TV featuring SRS TruSurround HD Sound.
Sceptre's X505BV-FMDR carries a $699 suggested retail and is available through Amazon, QVC, Sears, Kmart, Tiger Direct, Costco and Newegg.
The FullHD TV has ultra-slim borders and brushed textured bezel, and it incorporates an MHL-enabled HDMI port (one of three HDMI inputs) capable of accepting Roku first-generation Streaming Stick and wired connections to many smartphones and tablets.
MHL technology directly connects mobile devices to the HDTV using a single MHL cable, transmitting up to 1080p high-definition video and surround-sound audio while simultaneously charging the connected mobile device.
By using the MHL connectivity, users can share and play games, watch videos, view photos and display all media from a portable device to Sceptre's 50-inch LED HDTV.
The X505BV-FMDR has a widescreen 16:9 ratio and can be easily wall mounted for smaller rooms.
The Energy Star-compliant 50-inch set has an estimated yearly energy cost of $16.70, and it measures less than 4 inches thick.