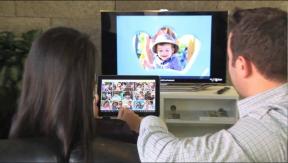 Ridgefield Park, N.J. – Samsung added a new spin to its expanding line of NX mirrorless interchangeable-lens cameras: the pocket-sized NX Mini.
The camera measures 0.88 inches slim (1.37 inches with 9mm attached lens). It is 4.34 inches long by 2.43 inches tall, and weighs 5.57 ounces.
To achieve its reduced size, the new ultra-compact ILC model requires the use of a smaller 1-inch 20.5-megapixel backside illuminated CMOS sensor. Previous NX-series cameras used larger APS-C sensors.
The camera, which will be available in two kit options this April, is capable of taking soft-focus backgrounds and offers advanced photo-taking tools in an easy-to-carry form factor, the company said.
The NX Mini will also require a new lens-mount system, although Samsung will provide an optional $149 suggested retail adapter to enable the camera to accept regular NX-series lenses as well.
The camera will include built-in Wi-Fi functionality with NFC; a simple-to-use user interface; and the Smart Camera 3 system, introduced earlier in other 2014 models, that provides on-camera support for Dropbox and Flickr transfers, in addition to Photo Beam and other apps.
Other features include up to a 1/16,000 second shutter speed and 6 fps burst shooting. The camera will record up to 1080/30p video in MP4/H.264 compression.
Along with the NX Mini, Samsung also announced three NX Mini lenses: a 9mm pancake (24.3mm 35mm equivalent), a 9mm-27mm zoom, and a 17mm f1.8 fixed lens (due in June).
Samsung will make the NX Mini available in two kit options: one including the NX Mini camera and 9mm pancake lens ($449 suggested retail) and one including the 9mm-27mm zoom lens and new SEF-7A external flash ($549). The camera comes bundled with Lightroom 5 photo editing software.
The diminutive model is small and light enough to be comfortably carried in a pocket or purse with the attached 9mm pancake lens, and will be offered in a choice of five pastel body colors: white, black, brown, Mint Green and pink.
Samsung said it originally developed the ultra-compact ILC for a niche market comprised mostly of women, particularly those in the vlogger/blogger community, but its market research quickly found an appreciable audience among men as well.
The camera includes a MicroSD card slot and the battery recharges in camera. An optional external battery charger will also be available.
The camera body is made of durable magnesium alloy while the NX Mini lenses are made of aluminum.
Latest posts by Greg Tarr
(see all)