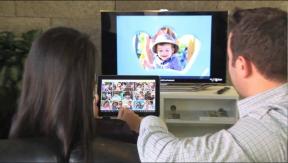 Washington — The Environmental Protection Agency (EPA) said Thursday that for the second year in a row, Samsung Electronics has won the 2014 Energy Star Partner of the Year – Sustained Excellence Award for continued leadership in protecting the environment through activities focused on providing products with superior energy efficiency.
The company was also recognized by the program with a Climate Communications Award for its efforts in further educating consumers about the positive effect energy efficiency and energy-efficient behaviors has on climate change, according to Samsung.
"Receiving two Energy Star Partner of the Year Awards in one year including the highest Sustained Excellence Award for the second consecutive year is truly an honor," said Gregory Lee, Samsung Electronics North America president and CEO. "We have a long-term commitment to sustainability, and strive always to seek smarter ways to manage our operations responsibly while developing the most innovative and energy-efficient products. We are also proactively building awareness about how energy efficiency affects climate and encouraging consumers to fight climate change with the help of Energy Star."
Samsung was selected from 16,000 organizations in the U.S. participating in the program for the two honors. The company's related accomplishments last year include:
• Product Innovation: Samsung offers 1,176 qualified models across multiple product categories. Three Samsung products received the Eco-Design and Sustainable Technologies Awards from the Consumer Electronics Association earlier this year, one of which also earned the industry's first Energy Star Emerging Technology Award.
• Consumer Promotion: Through its consumer promotions, Samsung highlighted the importance of the EPA's "Change the World, Start with Energy Star" campaign.
• Corporate Citizenship: At Boys & Girls Clubs of America events throughout 2013, Samsung reached 150,000 youths across the United States and taught Club members and their families about the importance of saving energy and protecting the environment from climate change.
Earlier this year, Samsung's North American headquarters office in Ridgefield Park, N.J., earned the Energy Star certification for operating in the top 25 percent of similar facilities nationwide for energy efficiency.
Also this year, construction began on two major Samsung facilities. Samsung Semiconductor is building a state-of-the art energy-efficient campus in San Jose, Calif., and Samsung Research America is building a new R&D center in accordance with LEED Gold and LEED Platinum certification standards in Mountain View, Calif.
"Samsung Electronics has earned EPA's highest Energy Star award — the 2014 Partner of the Year – Sustained Excellence Award — because of their unwavering commitment to helping consumers become increasingly more energy efficient," said EPA Deputy Administrator Bob Perciasepe. "By using innovative marketing and communications, Samsung Electronics is also helping to raise the public's awareness of climate change. An informed public can make smarter choices about the purchases they make and the impact that they have on the environment and our changing climate."
Samsung said it has been honor by EPA's program for six consecutive years.
Past Energy Star honors have included:
• 2013 Partner of the Year – Sustained Excellence Award
• 2012 Partner of the Year – Product Manufacturer Award
• 2011 Partner of the Year – Product Manufacturer Award
• 2010 Excellence in Energy Star Promotion
• 2009 Excellence in Energy Star Labeling
Samsung be presented the award at a ceremony here on April 29.