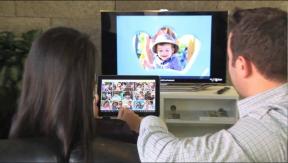 Barcelona, Spain — Two next-generation Gear smart watches unveiled by Samsung at the Mobile World Congress are its first wearable devices incorporating proprietary Tizen OS.
Tizen is used in a handful of Samsung smartphones available outside the U.S. and its current Gear smart watch uses the Android OS.
The Gear and Gear 2 also incorporate new stand-alone features such as embedded MP3 player and IR transmitter to control TVs and set-top boxes. The new models also add faster processors, longer battery lives and changeable straps compared with their predecessor. The new models appear to lack the original Gear's speakerphone capability, which lets users hold a phone conversation by talking into the devices.
Both Bluetooth-equipped models, shipping around the world in April, are compatible with dozens of Samsung Galaxy smartphones at launch, the company said.
Like before, both connect to Galaxy smartphones to display caller ID information, messages and other notifications, and they download apps like their predecessor. Both devices also offer personal fitness coaching in real time.
Like its predecessor, the Gear 2 features a camera, but the Gear 2 Neo does not.
Both models feature a 1.63-inch 320 by 320 Super AMOLED display, 1GHz dual-core processor, 2-megapixel autofocus camera in the Gear 2, Bluetooth 4.0, 512MB RAM, 4GB memory, heart-rate sensor and pedometer. Their 300 mAh rechargeable battery lasts from two to three days under typical usage, the company said, and up to six days with low usage. Both also offer different color options.
The Gear 2 measures 1.45 inches by 2.3 inches by 0.39 inches and weighs 2.4 ounces. The Neo measures 1.49 by 2.31 by 0.39 inches and weighs 0.94 ounces.
The current Galaxy Gear is equipped with a 1.63-inch, 320 by 320, 278 ppi super AMOLED screen. It features a 800MHz single-core processor, 512MB of RAM and 4GB of user memory. A single charge provides 25 hours of normal usage from its standard 315 mAh button battery.
Latest posts by Jospeh Palenchar
(see all)