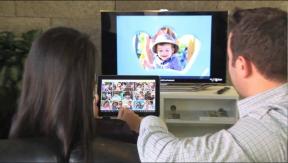 Fort Worth, Texas – RadioShack has replaced its eight-month-old "Let's Play" branding campaign with a new theme that emphasizes the chain's customer support.
The new slogan, "It Can Be Done, When We Do It Together," speaks to the brand's ability to collaborate with consumers to help them discover what is possible through technology, the company said.
RadioShack said the campaign is also rooted it its "purpose as the brand that enables customers, filling a void when consumers need knowledge and some added expertise to bring a tech idea to reality."
Senior VP and chief marketing officer Jennifer Warren said the new effort received a very positive reception from vendors who previewed it during International CES, and will debut with an integrated marketing campaign in early February that focuses on the chain's associates and "how anything is possible when we 'Do It Together (DIT).'"
The marketing plan includes TV, radio, print, digital, social and in-store executions, and was created with "a how-to perspective in mind and placed to reach and engage a very tech-forward audience," the company said.
RadioShack said the new positioning also portends changes in core brand competencies including people, products, pricing and how it engages its local markets through both internal and consumer-facing changes. These changes include hiring and training practices; merchandising and product development strategies featuring the latest in technology; and consumer-centric design in stores "to truly showcase the collaborative nature of the RadioShack brand."
"RadioShack can help create technology-based solutions that make anything possible," noted RadioShack CEO Joe Magnacca, who marks his first anniversary as chief executive in February. "This new approach gives us an internal rallying cry to motivate our team of almost 30,000 associates to go the extra mile for our customers as we continue to make progress with our turnaround plan."
Warren added that the campaign was based on research showing that successful consumer collaborations with RadioShack and its associates have created "an emotional connection" with its most loyal customers.
"We know that RadioShack can deliver on a positioning that openly states anything is possible when we 'Do It Together,'" she said. "This is something that differentiates us and is in line with where the consumer electronics industry is headed, delivering connected solutions to the marketplace."
RadioShack's previous campaign, "Let's Play," positioned the chain as a neighborhood technology playground.
Latest posts by Alan Wolf
(see all)