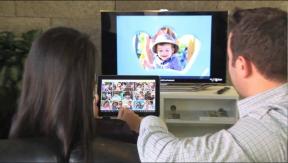 New York — Pyle Audio is aiming at the outdoor enthusiast market with its water-resistant Rocket Torch Bluetooth speaker, which adds an FM tuner, LED flashlight and MiniSD slot for playing stored audio files.
The Torch, shaped like a cylinder, also has an aux-in port and seven tactile "splashproof" audio control buttons tucked under the cap. It weighs less than a pound and comes with a carabiner for clipping to a backpack or belt loop. The flashlight runs off a separate rechargeable long-life lithium battery that recharges via a USB port.
Users can use the Torch to amplify the sound from a TV, computer or any device equipped with an aux input.
The Rocket Torch retails for $44.99.
"We're always looking for ways to create quality products that take audio to the next level," said Pyle's Abe Brach, product specialist. "The Rocket Torch brings together numerous ways to listen to music with the added bonus of a flashlight, making a product that's not only inventive but also convenient."
Latest posts by John Laposky
(see all)