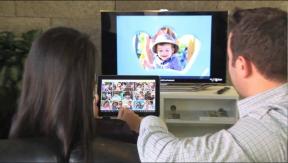 New York — Panasonic has released pricing on its first-ever streaming-media players and its 2013 Blu-ray line, both ready for shipment now and introduced originally during International CES.
The streaming-media players are the DMP-MST60 and the DMP-MS10 featuring Viera Connect and IP VOD, respectively. The DMP-MST60 has a manufacturer's suggested retail of $99.99 while the DMP-MS10 has a suggested retail of $79.99.
Panasonic's 3D-capable streaming-media player, the MST60, features Panasonic's connected TV platform, Viera Connect, which enables owners of Viera Connect-enabled Blu-ray Disc players, streaming-media players and home-theater systems to turn any TV into a smart TV with access to a wide range of Internet-based video-on-demand content and applications. The MST60 also includes a web browser with cursor, the company said.
The Panasonic MS10 includes built-in Wi-Fi and contains access to IP VOD, giving users the ability to stream many of their favorite TV shows, movies and music from a variety of popular applications including Netflix, Hulu Plus, CinemaNow, Vudu and YouTube.
Panasonic's streaming-media players also include external hard-disk-drive (HDD) playback. The MST60 also has a 2D-3D conversion function and Miracast — a new display mirroring feature that lets consumers transfer and display photos, videos, movies, music and video games from their smartphone and tablet devices (Android 4.2 OS or higher) to their HDTV screen with the swipe of a finger.
The 2013 Blu-ray line consists of two FullHD 3D models (DMP-BDT330 and DMP-BDT230) and two 2D Blu-ray players (DMP-BD89 and DMP-BD79), as well as continuations of two 2012 FullHD 3D models (DMP-BDT500 and DMP-BBT01).
Pricing is as follows for the 3D players: DMP-BDT230, $129; DMP-BDT 330, $199; DMP-BDT 500, $349; and the DMP-BBT01, $269.
All four of Panasonic's 3D-capable Blu-ray models include Panasonic's Viera Connect, while the 2D models feature IP VOD. They also feature a web browser with pointer cursor for easy maneuvering, while all models in the 2013 lineup also feature external HDD playback and personalized menu options on the Blu-ray lineup, Panasonic said.
The BDT330 model also offers Miracast.
The Panasonic Blu-ray players include built-in Wi-Fi (with the exception of the BD79, which is wireless-ready). Panasonic's 2013 Blu-ray players also boast high-quality network audio (DLNA compatible) as well as 192kHz/32-bit Audio DAC on select 3D-capable models (BDT500) and built-in 4K up-scaling (BDT330).
Panasonic is holding press briefings here this week on its home entertainment and display products lines today and tomorrow. Visit TWICE.com for more updates.
Latest posts by Steve Smith
(see all)