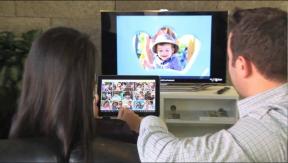 Las Vegas – LG Electronics said its latest crop of refrigerators will all have its trademarked door-in-door feature.
The design, first launched on LG's flagship French door fridge in 2010, consists of a compartment within the right-side refrigerator door that can be used to hold more frequently accessed contents like beverages and condiments. The compartment features a magnetically sealed door bin that provides easy access without having to open the entire refrigerator, thereby maintaining steadier temperatures. The compartment is accessed by pushing a button on the refrigerator door handle that releases the magnetic seal.
LG introduced three new door-in-door models last quarter that respectively offer extra capacity, double freezer drawers and dual ice makers. The new models are expected to be displayed next week at International CES.
"Based on customer feedback, all of our latest refrigerators are now designed with the user-friendly door-in-door feature to maximize convenience," said Seong-jin Jo, president/CEO of LG Electronics Home Appliance Co.
The manufacturer, which will again hold court at the show in the massive North Hall booth 8204, will also showcase its next generation of smart technologies. A new platform featuring LG's proprietary HomeChat service, which can be accessed via the mobile messenger app Line, allows consumers to communicate, control, monitor and share content with their appliances. Line is available for all smartphone platforms and the Windows and Mac OS X operating systems.
Latest posts by Alan Wolf
(see all)