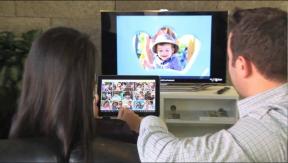 Las Vegas – National CE and IT distributor New Age Electronics has expanded its portfolio of emerging technologies with the exclusive additions of Google's Chromecast, Pivothead wearables and personal robotics from WowWee.
The announcements were made this week at International CES.
Chromecast is a $35 HDMI dongle that allows users to stream online content to their TVs via their computers or mobile devices. A growing base of "castable" apps includes Netflix, YouTube, Hulu Plus, Google Play Movies and Music, and the Chrome browser.
"We're super-excited to have this," New Age president Fred Towns told TWICE. "At just $35 [retail], it's amazingly powerful for connectivity and makes a great gift item."
The agreement with Pivothead gives New Age exclusive North American access to its pioneering line of hands-free 1080p HD video eyewear. "The wearable technology market is burgeoning with opportunities for retailers to offer products that not only work into consumer lifestyles, but enable them to fully capture it," Towns said.
Similarly, as WowWee's exclusive North American master distribution partner, New Age will offer the company's robots and other iOS and Android app-enabled products. Towns said the award-winning line will give its retailers "yet another point of differentiation to drive consumers to their stores."
WowWee has sold over 20 million units of its RoboSapien and RoboRaptor children's robots, and debuted its latest addition, the $100 MiP interactive robot toy, at CES in LVCC's North Hall booth 6323 and at booth 71115 in the Venetian Ballroom.
Towns added that the new lines target the hot $300-and-under stocking stuffer market, and can give retailers a high-profile presence in the burgeoning wireless connectivity category. For more information, U.S. dealers can contact New Age by calling (800) 756-9888 ext. 4827 or emailing [email protected].
In other New Age news, the distributor named Conn's as its 2013 Dealer of the Year last night at its annual CES customer appreciation gala at Caesars Palace, where guests were also entertained by Denver rock band The Fray.
Conn's, the multiregional regional furniture, bedding, majap and CE chain, was selected based on its strong year-over-year revenue growth, close executive alignment, strategic partnership, sourcing of multiple brands and a consistent positive credit standing.
"Conn's Home Plus is one of our most respected customers," Towns said. "We have built our relationship on trust and a deep, mutual understanding of each other's businesses over the years."
Latest posts by Alan Wolf
(see all)