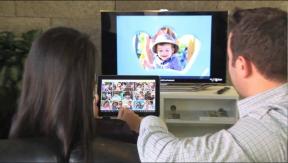 Dallas — Mega Group USA offered a slew of new member services at its national convention, which wrapped up earlier this week at the Gaylord Texan Resort, here.
Rick Bellows, president of the 1,600-dealer furniture, appliance and CE buying group, reported that "attendance was strong" and the mood "upbeat" at the four-day event despite the severe winter weather that impacted sales in some parts of the country.
Indeed, Mega dealers outpaced majap industry sales, which fell 6 percent in January and February, appliances VP Missy Hodges said. "Mega dealers are holding their own and exceeding the industry numbers," she noted.
During the show, Hodges hosted an interactive planning session covering business plans, budgets and goals. "If you are failing to plan, then you are planning to fail," she told members.
Elsewhere in majaps, Whirlpool unveiled its new Maytag product line and merchandising strategy that kicked off in February with an updated "Maytag Man" marketing campaign. The new product platform has "a unique look," along with a rare 10-year major component warranty on all models, that will help set it apart in the marketplace, Mega said.
Whirlpool also presented Mega member Kettle Moraine Appliance & TV of West Bend, Wis., with a check for Habitat for Humanity on behalf of the manufacturer and the buying group.
In CE, the group announced improved website integration that will allow members with premium sites to automatically upload and feature thousands of CE SKUs, and have them delivered to stores or directly to customers within one or two days. "This will give most members an opportunity to show a selection of electronics that rivals even Best Buy and make them look huge in the category," said CE/marketing executive VP Jim Sendrak. "It's all plus business for the member."
On the furniture side, executive VP Jerry Honea hosted a presentation on industry and economic trends for furniture and mattresses, with special emphasis on outdoor products and consumers' growing interest in this developing category. To address opportunities within the "outdoor room," Mega organized an Outdoor Casual section at the show that featured lighting, grills, furniture, shade, fire pits, pergolas, kitchens, water features, rugs, fireplaces and heating systems. Several new furniture vendors were introduced, including Trex, Adagio, Flair, Guildmaster and Vaughan.
Elsewhere at the convention, the group introduced a new best-practices workshop called Mega Performance Groups. Dozens of dealers participated in the program, which will offer members opportunities to share business information, financials and best practices in a confidential setting. The information will be compiled for each performance group and presented to dealers to measure their results against similar businesses for improved efficiencies and profitability.
The show also featured what Mega described as an "intense schedule" of training meetings. These included product training by category and brand; industry reviews of appliances, electronics, furniture and mattresses; and workshops and reviews of advertising, web marketing, product protection sales, health and business insurance, and consumer financing. Noted Bellows, "By far, the No. 1 request is always for more training. [Dealers] can't get it in their markets any longer. Our role as a group is to bring training to them at our shows."
Bellows also moderated a discussion with Mega members Jay Russo of Good Deals Appliances in Ft. Myers, Fla., and Lee Burns of Mattress Direct in Baton Rouge, La. The pair shared some of their personal approaches to running successful businesses, covering such areas as personnel, inventory control, sales and sales training. "Members would rather learn from each other than listen to keynotes or motivational speakers," Bellows observed.
On the store front, Mega introduced a Digital Studio program of affordable interactive displays. The touchscreens, which can be placed strategically around stores, show constantly running pictures, animations and videos highlighting product features and benefits. The screens also provide on-floor access to product- or category- specific sales text and assets for both customers and sales associates. Using Cloud-based content, dealers can readily program multiple screens with different content provided by manufacturers or upload their own content as well. "We've studied all systems out there and feel that what we've chosen is the best, most cost-efficient and easy-to-use system available," said Mega chief information officer Scott McFarland.
Within e-commerce, new versions of the group's mobile app were introduced that can be integrated with its WebFronts retail websites to help dealers combat showrooming and enhance their online presence. The group also offered enhancements to its RetailDeck app, for use with in-store tablet sales tools.
Mega's extended service-protection plans were also the focus of shared success stories and best practices. Said business services executive VP Mallory Parker, "Members realize the bottom line positive impact of the program as well as employee retention benefits and customer loyalty."
Another highlight of the convention was the 90-minute "Mega Madness" auction, featuring nearly 50 suppliers with limited-offer show specials.
Mega will next convene Aug. 22-25 at the new convention center in Nashville, Tenn. "Nashville is always our biggest convention," Bellows noted. "We're particularly excited about this one because both the convention center itself and the Omni Hotel are brand new."
Latest posts by Alan Wolf
(see all)