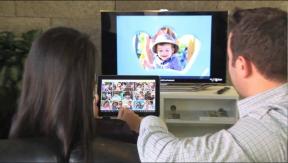 Indianapolis – Klipsch Group plans to double its sales in the three years starting next March following its reorganization into four cross-brand groups, the addition of new employees and rep firms, and stepped-up promotional and merchandising activities.
The merchandising activities include a drive to place active displays and dedicated audio rooms in anywhere from 500 to 1,000 storefronts by the end of the year.
The goal is to expand sales to about $350 million to $400 million from about $180 million to $200 million, said Paul Jacobs, Klipsch Group president/CEO. "The sales goals start March 1 of next year, but we want to be in full stride when we cross the starting line in March and ramp up from there," he told TWICE.
"This was our time to lay out a three-year plan with very clear goals and objectives," Jacobs said, because "nontraditional brands have started to become noisy and visible in our space," the number of CE retailers has shrunk, new types of retailers such as Urban Outfitters and airport stores have become more important to the industry, and new product categories such as soundbars and Bluetooth speakers have gained traction.
The Voxx-owned Klipsch Group — which consists of the Klipsch, Jamo and Energy brands — "needs to make a radical difference in the market" if it wants to "to build a sustainable company and create jobs and opportunities," he added.
With those objectives in mind, the company completed a reorganization into four cross-brand vertical-market groups: separates audio, connected systems, mobility and commercial. Each group is responsible not only for sales and marketing of products for all brands within those vertical segments but also for the products' merchandising and display.
The separates segments focuses on audio components, while the connected-systems group focuses on high-performance plug-and-play tabletop music centers, 5.1 speaker packages, soundbars and TV-speaker bases. Most of these products incorporate wireless, Jacobs said.
The mobility group focuses on high-performance portable sound, including gaming and music headphones, portable Bluetooth speakers that fit in a briefcase or handbag, and the like. The commercial group focuses on sales to cinemas, the hospitality industry, and other commercial venues.
"Before, everyone was focused on the Klipsch, Jamo or Energy brands, but that's not how the business happens," Jacobs said. "That put people in competition with one other, and you might see $199-per-pair bookshelf speakers from three brands."
Each group has its own sales and product development VPs, and the company has added two more rep firms and hired five more people in engineering, marketing and sales as part of the reorganization. "If we're going to double the business, we have to prepare and not wait until it's too late [to hire people]," Jacobs said.
As part of the growth plan, the company is stepping up its merchandising and display support because "we concluded that we have to be a world-class retailer," Jacobs said. In the old days, audio suppliers could train A/V specialists and let the specialists merchandise and sell, but with different types of retailers growing in prominence and new types of products entering the market, "training is not enough," Jacobs said. Klipsch Group must be able to "build great products, build the brand, and make sure we execute in a world-class fashion in the store with best-in-class retail displays and solution," he said.
By the end of the year, Klipsch Group will have placed active tabletop and floorstanding displays in 500 to 1,000 retail outlets in North America, including InMotion, hhgregg and Worldwide Stereo stores. The displays will be modular and enable live demos with recorded music. The rollout will continue into the spring. Soundbar displays will feature audio and video playback.
The intent of the displays is to "drive a better customer experience and better ASPs," Jacobs said.
The company has also begun to roll out component rooms in such stores as Abt, Nebraska Furniture Mart, Star Power and Sound Advice. When the rollout is finished in 12 months, component rooms will be operational in about 150 storefronts, with about 10 to 15 operational by the end of this year. Video will accompany home theater demos in the rooms.
Unlike the dark, intimidating audio demo rooms of yore, Jacobs said, the component rooms will be "somewhat closed off but bright and airy," although high-end two-channel rooms might tend to be more closed for serious listening, he said.
To drive people into stores to hear the displayed products, Klipsch continues to ramp up its promotional efforts, Jacobs said. Recently, the Klipsch brand signed on as title sponsor of the first-quarter 2014 Kings of Leon tour in North American. The deal marks the first time that Klipsch has sponsored a musical group's tour to promote the Klipsch brand of audio products. In its other promotional efforts, the company has signed up leading sports figures as Klipsch-brand ambassadors, and the brand sponsors numerous Live Nation Entertainment venues throughout the U.S. and Canada.
Jacobs also plans more culinary-related promotions, having just wrapped up a sponsorship of a two-day wine and food festival called Music City Eats in Nashville. Klipsch speakers were used to reproduce music at the outdoor event.
Food, wine and music go together because music enhances the food and wine experience, Jacobs said.
Latest posts by Joseph Palenchar
(see all)